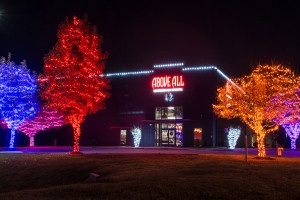 Happy 2016! After our busiest holiday lighting season to date, we're happy to take some time to reflect on the 2015 holiday season. We had some interesting new clients with unique stories and projects; we'd like to share some of our favorites from this past holiday season.
---
Above All Extreme Sports in Brentwood, TN
Jeff L. (owner of Above All Extreme Sports) wanted to draw attention to his business, and what better way to turn heads than have a massive holiday lighting display! To make the display really draw attenti
on, Jeff wanted to use a more flashy color scheme in his Christmas light display. He tossed around several options but in the end decided on having each tree a different color. The lighting display was even more effective than Jeff anticipated, drawing in a significant amount of business. This project was a ton of fun and looked absolutely amazing!
Scott M. in Brentwood, TN
Scott M. wanted to do something special for his neighbors, who had a rough year in 2015. He decided the best way to cheer them up for the holiday season was to surprise them with a beautiful holiday lighting display on their shared condo building. We've installed Christmas lights on everything from restaurants to horse barns, but never on a condo unit! We lined the roofline of the the entire condo building, which spans five individual units, with custom cut Christmas lights, lit five trees in front, and installed a wreath on each dormer.
Everyone was blown away by the lighting display! Our hat's off to Scott for setting the example of giving for the holidays. We truly enjoyed this special lighting project and we're glad to be a part of something that lifted the spirits of a few individuals that needed it.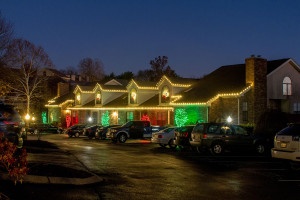 Russ N. in Hermitage, TN
Russ wanted to do something special for his wife for the holidays. Having a large, beautiful home is a blessing, except when it comes to installing Christmas lights! Not having the time or experience to put up a display, Russ' wife thought she was never going to be able to have one of those "must see" homes for Christmas lights. He decided to surprise her by giving us a call! He even met with the lighting specialist while he was walking the dog, so his wife would be none the wiser. When she caught a glimpse of Russ speaking with the lighting specialist, he told her he was a roofer looking for hail damage. After the clandestine installation was complete, Russ and his wife drove up to the house for the first time and she didn't even recognize it; she thought they had driven past!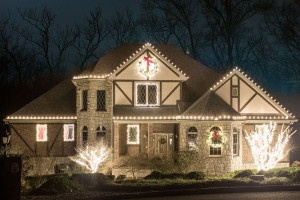 We love hearing back from our clients, especially about the holiday displays. Stories like these remind us that the true reason for the holidays is not about receiving, but giving to those you love.
From all of us at Light Up Nashville, thank you for a wonderful 2015!
Click here to see some of our favorite holiday displays!