Hiring a company specializing in outdoor lighting is the best decision you can make after you've invested a good bit of money into your home. Hire an outdoor lighting designer who is trained to turn your dreams into a living space that you, your family, and friends can enjoy, day or night. If you're planning on adding outdoor lighting or you want to include outdoor lighting with your overall plan, it's important to have someone who can envision the entire scope of the project.
Why hire an outdoor lighting designer?
Professional Grade Fixtures
Many people quickly purchase landscape lighting fixtures from a local retail hardware store. The appeal is that these are inexpensive and can be installed by the consumer. But unlike plastic or metal kit lighting, a professional grade system comprises architectural grade components engineered to be specified and installed by an experienced professional. High-quality lighting effects cannot be performed with "kit" lighting. Big box store lights have low output and cannot properly illuminate most landscape and architecture. In addition, they are only meant to last about 18 months, meaning you would need to replace these fixtures every couple of years at best. The old adage "you get what you pay for" is absolutely true with outdoor lighting products. There is a huge variety of products available to lighting professionals that are not accessible to the general public regarding specific high-grade fixtures, bulbs, and other products. Hire an outdoor lighting designer to fully utilize these resources and allow your designer to give your home a collected, unique, and cohesive style at the highest possible quality.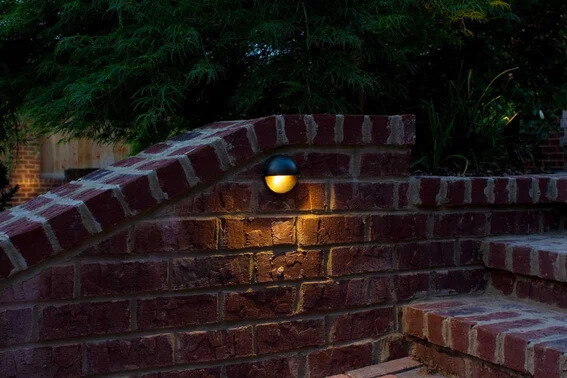 Safety
You risk endangering your life and the lives of your family members when you attempt electrical installation yourself. There are no "do-overs" when working with electricity. Touching the wrong wires together or failing to ensure the current is off can have fatal results. You can also create severe gas line issues and possible water main breaks if you're unsure what to do. The landscape lighting designers at Light Up Nashville have relationships with all of the utility companies in Middle Tennessee and go through an extensive process for every project to ensure all of the utilities on a client's property are marked and flagged before being installed.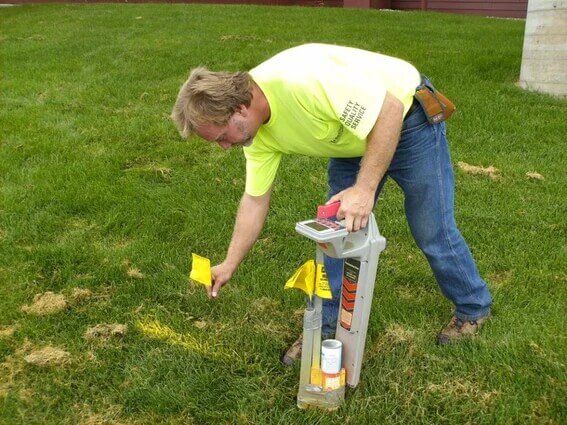 Works Well with Other Contractors
Hire an outdoor lighting designer to work with you and your architect, builder, or contractor early on, and head off lighting design misses in your overall plan. This is crucial in managing time and money. Also, lighting professionals are trained to think about things that may get otherwise overlooked. It's so important that the lighting components are installed before the cement is poured, hardscapes are constructed, and outdoor structures are finished to ensure proper placement of fixture components.
Warranty and Maintenance
If you complete the work yourself, there is no guarantee or warranty if something goes wrong down the line. You will have the manufacturer's warranty for whatever products you utilize, but the manufacturer will not cover damages due to improper installation. Conversely, hire an outdoor lighting designer who will offer maintenance programs and better warranties not only on the products offered but also on the services provided. All of the lighting products installed by Light Up Nashville have excellent warranties, from 10 years to a lifetime. In addition to having better warranties, having a maintenance plan is paramount to keeping an outdoor lighting system running properly. From cleaning fixture lenses to trimming bushes and trees that have grown and are obstructing light, having a maintenance plan in place is an important part of sustaining an outdoor lighting system and, most importantly, maintaining the integrity of the lighting effect the system was intended to provide.

The Design Process
Hire an Outdoor Lighting Designer to Transform Your Ideas
If the above are reasons why it's so beneficial to hire an outdoor lighting expert, the below delves a bit deeper to touch on the process and how your idea is transformed into reality when you hire an outdoor lighting designer.
1. Initial Consultation:
Where Your Vision Takes Shape
The journey to exceptional outdoor lighting begins with a crucial step – the initial consultation with a lighting designer. During this pivotal meeting, you can share your dreams and aspirations for your outdoor space. Here's what you can expect:
Listening to Your Ideas:

A professional lighting designer will listen attentively to your ideas, preferences, and goals for outdoor lighting. They want to understand your vision and how you envision using your outdoor space.

Property Inspection:

The designer will conduct a thorough inspection of your property. They'll take note of its unique features, including the architecture, landscaping, pathways, and focal points. This inspection helps them understand the canvas they have to work with.

Discussion and Planning:

You'll collaborate with the designer, exploring various design concepts and possibilities. Together, you'll outline your priorities, whether accentuating specific architectural elements, enhancing security, or creating a warm ambiance for outdoor gatherings.
2. Concept Development:
Turning Dreams into Design
After the initial consultation, the lighting designer goes to work, transforming your ideas into a comprehensive lighting plan. Here's how they will develop the concept:
Choosing the Right Fixtures:

The designer selects fixtures that align with your vision. They consider factors like fixture type, style, and finish to create the desired aesthetic.


Colors and Tones:

Lighting designers are experts in selecting the appropriate colors and tones to create the desired ambiance. Whether you want warm, inviting lighting or a more dramatic effect, they'll guide you in making the right choices.


Strategic Placement:

The designer carefully plans the placement of fixtures to achieve the desired lighting effects. This involves highlighting architectural elements, pathways, and landscaping features while minimizing light pollution.
3. Technical Expertise:
Precision and Safety
Beyond the creative aspects, a lighting designer brings technical expertise to the project. This expertise ensures safety and optimal performance:

Calculating Lighting Levels:

Lighting designers calculate the exact lighting levels required for each area of your outdoor space. This ensures that the lighting is neither too bright nor too dim but just right for the intended purpose.

Proper Wiring:

To avoid safety hazards, outdoor lighting must be done correctly. Lighting designers ensure that all wiring is installed to code and safely concealed.

Fixture Selection:

Designers choose high-quality, durable fixtures designed for outdoor use. These fixtures are built to withstand the elements and provide long-lasting performance.

Energy Efficiency:

A lighting designer can incorporate energy-efficient LED lighting solutions, saving you money on energy bills while reducing your environmental footprint.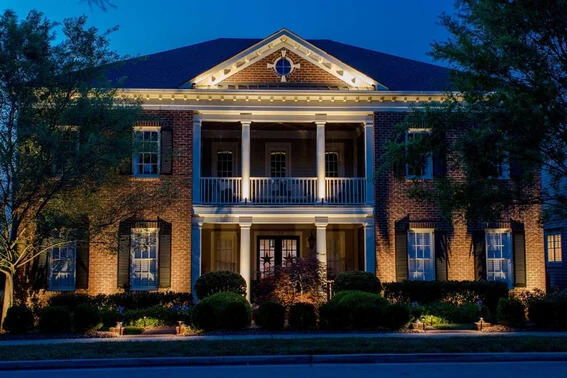 4. Collaboration
Seamless Integration with Other Contractors
One of the significant advantages of working with a lighting designer is their ability to collaborate effectively with other professionals involved in your project:
Early Involvement:

Lighting designers can work alongside architects, builders, and contractors from the project's inception. This early involvement ensures that lighting design integrates seamlessly with other aspects of the project, preventing design misses and costly modifications later on.
Comprehensive Planning:

They consider factors that might get overlooked, such as ensuring the lighting components are installed before concrete is poured, hardscapes are constructed, or outdoor structures are finished. This prevents disruptions to the overall project timeline.
5. Customization
Tailoring the Lighting Plan to Your Property
Every property is unique, and a lighting designer understands the importance of customizing the lighting plan to fit your specific landscape and architectural features:
Personalized Approach:

Lighting designers consider your property's individuality when designing your lighting plan. They consider elements like the layout, trees, water features, and outdoor amenities to create a design that feels like a natural extension of your property.
6. Visualization
Seeing the End Result
To ensure that the lighting design aligns with your vision, many lighting designers use visualization tools:


3D Modeling:

Some designers utilize 3D modeling software to create realistic renderings of your outdoor space with the proposed lighting. This allows you to visualize how the final result will look.

Lighting Simulations:

Lighting designers can provide simulations that show how the lighting will change throughout the day and in different weather conditions, helping you understand the dynamic nature of outdoor lighting.
By following these steps, a lighting designer can bring your outdoor lighting dreams to life, creating a space that you, your family, and friends can enjoy day or night, all while ensuring safety, efficiency, and integration with other elements of your project.

---
If you have any questions or would like to discuss your lighting needs, please feel free to request a free consultation online.
We're a local business that has been lighting up Nashville since 2012. Our team has years of experience creating and installing unique and elegant outdoor lighting designs and providing maintenance and repair services to homes and businesses across Middle Tennessee. Our award-winning company has been voted 1st in Nashville House & Home for landscape lighting for four consecutive years and Best of Houzz for the last three years.
Located in Goodlettsville, Light Up Nashville services Nashville, Brentwood, Franklin, Hendersonville, Gallatin, the surrounding areas, and beyond.