We are fortunate, in the middle Tennessee region, to have dedicated and talented custom home builders who deliver exceptional homes for their discerning customers. Your ability to interpret the needs of your clients and work collaboratively with them, allows you to deliver uncompromising results in the aesthetic, function and use of their property. As lighting experts serving the same clients, we are often tasked to illuminate those properties to add further value and extend home enjoyment throughout the evening. When designed and installed properly, lighting can, in fact, transform your creation into something new your client can experience and enjoy only at night. If you are considering offering architectural lighting as part of your custom home design, make sure your installer is a verified lighting professional.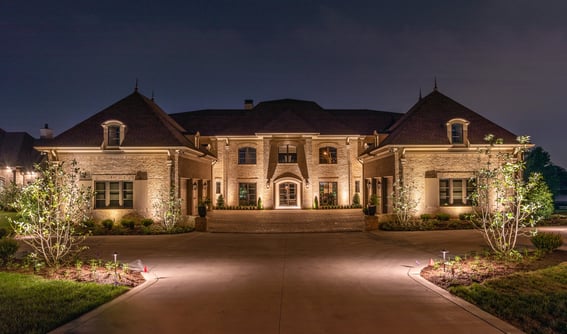 What You (and Your Customers) Should Experience
The expectations and demands of the custom homeowner are similarly demanding when it comes to incorporating an outdoor lighting plan for their property. A truly professional lighting designer will be able to address these specific requirements:
Total Personalization
You've worked hard to deliver exactly what your client wants when it comes to the design, aesthetic, and function of their home. A professional lighting installer will be able to work with you to enhance those features and amenities during the evening making your homes transform into new spaces at night.


f

Unique Fixtures and Finishes
A major part of the value you bring to your custom build is the ability to deliver truly one-of-a-kind spaces, particularly as you work with your client early in the process. There are many lighting fixtures and designs that a professional designer should be able to provide when illuminating your home or property. Make sure your outdoor lighting contractor has experience working with a full range of products that are in line with your customers overall aesthetic.


Precise Installation
You are an artisan and your attention to detail and creativity are why your clients choose to work with you. The same principles apply to architectural lighting and landscape lighting. Proper lighting and wiring come with years of experience. Selecting the proper fixture, lamp, wattage, color temperature, and beam spread will all factor in to delivering the precise results your client should expect. The ability to install lighting in trees, hardscapes and other hard to reach areas is what separates the true professional. Be sure to inquire about past work and capabilities when vetting your contractor.

Quality Materials
There are no limitations when it comes to the materials you work with to deliver what your customer demands. The same is true with outdoor lighting. Install fixtures that are built to last. Many brass or copper fixtures come with lifetime warranties and are essential. You never want your reputation affected by having part of the lighting system fail. To that point, be sure someone can service the lighting system moving forward. Your home is intended to last a lifetime and periodic inspection, cleaning and maintenance of lighting fixtures will be necessary to maintain optimal performance of your lighting design.


Lower Cost
One of the benefits of building a custom home are the long-term cost savings as it relates to major repairs of renovations. By specifying quality fixtures from the outset, you too can expect to deliver a lifetime of evening enjoyment. Be sure to verify warranty and service guarantees upfront so your homeowner will have a worry- free experience. Partnering with a lighting designer who will stand by their work and have service technicians on staff in the event of an unforeseen situation is not too much to ask.


Immediate Satisfaction
As your custom home build enables your customer to immediately transition and fully enjoy the spaces you have created, their enjoyment of their evenings at home should be just as seamless. Be sure to include lighting controls and timers. There are a variety of options ranging from simple timers that turn on / off at specific times to more complex systems that can be part of a smart home or work with mobile apps. Determine the level of control your customers desire and make their lighting experience truly stress-free.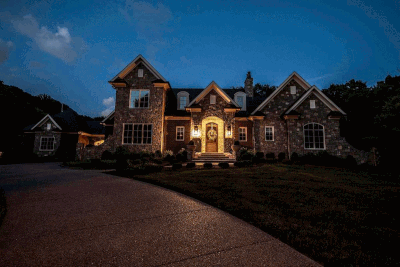 This is a lot to keep up with, we know. But adding lighting to your custom home projects will not only increase the value of your work but the satisfaction of your discerning customers as well. We are here to help.
At Light Up Nashville, we have provided lighting design and installation for hundreds of homes in Nashville, Brentwood, Gallatin, and beyond. We pride ourselves on delivering one-of-a-kind lighting systems based on the specific needs of each customer. And we are meticulous in ensuring each system is designed and installed correctly, the first time, so your client can immediately extend their enjoyment of your home well into the night.
That is why we don't only work with homeowners directly. We provide lighting design, installation, and maintenance services directly to custom builders, to help them deliver even more value to their clients.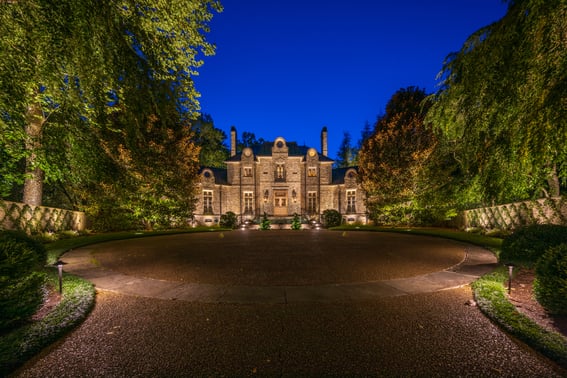 Partnering with Light Up Nashville is easy:
Once you've finished your design, we will provide a lighting plan using your drawings or can walk the property with you to identify areas of interest or unique features to be highlighted. We review the lighting plan together and modify as needed until final approval.


f

Our team installs the lighting system, ensuring our wiring and installation does not affect your home design or landscape in any way.


f

We maintain the system for a full year at no charge to your client and offer yearly maintenance plans after the first year to keep the property lit for years to come.


f

Most of our fixtures come with a lifetime warranty so in the rare chance of a product failure, we will repair or replace the product at no cost to you or your client.
As you approach your next home build and are considering how to best illuminate your design, please contact Light Up Nashville if we can be of help to you. Our goal is similar to yours. We want to enhance beautiful homes throughout middle Tennessee and inspire our customers to enjoy their property as much in the evening as they do during the day.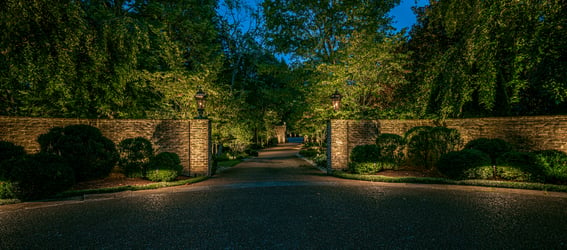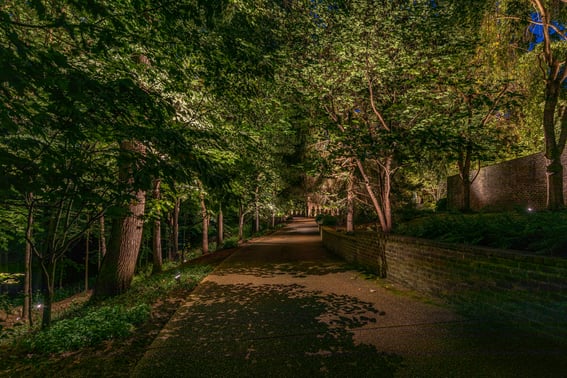 ----
Are you a customer already working with a custom homebuilder? We want to help them make your property look spectacular. Contact us by emailing
info@lightupnashville.com