Pelham McMurry
Remove Your Anxiety of Christmas Lighting This Year
Every year the holiday season seems to creep up on us faster and faster. Following Halloween and Daylight Savings Time, the Holidays kick into high gear. All eyes move to Thanksgiving with only a few weeks to plan and prepare for family visits. Then as if on cue, our communities throughout central Tennessee turn into a Christmas wonderland. It is no surprise we often feel as though we are chasing the holidays during this time of year rather than enjoying them.
You no longer have to feel the pressure of determining when and how to decorate the exterior of your home or business. Professional Christmas Lighting Design and Installation allows you to take your decorating to another level and removes all of the headaches you experience when taking this project on yourself. Imagine no more scrambling to purchase failed strings lights or dealing with musty garland and ribbons that have been in the attic all year. And perhaps most importantly, no longer having unsightly wiring and overloaded extension cords plugged into the exterior outlet of your home. Your holiday lighting should safe and never be a distraction to your enjoying your Christmas season.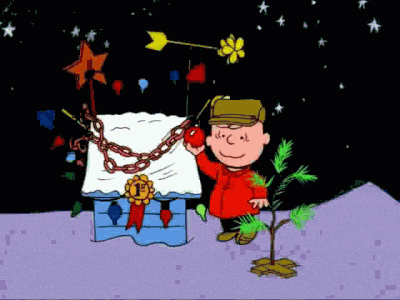 Professional holiday lighting is surprisingly simple to manage, provided you are working with an experienced professional. Every aspect of the process should be relaxing so you can stay focused on family, friends, and celebrating what is truly important during this time of year.
What can you expect from working with dedicated lighting professionals?
Exceptional Design - Schedule a consultation at your home and discuss your ideal vision for your lighting design. Remember that your options are likely more than you realize as an experienced professional can safely install lighting anywhere from rooflines, columns, doorways, and landscapes. A professional will also provide some ideas you may not have thought of yourself. The sky's the limit here, so have fun. You can expect to have a design presented to you within just a couple of days from your initial meeting. Review and approve the plan with your lighting designer and schedule your installation on the day most convenient for you.
Professional Installation - An actual professional lighting installer will arrive on the date you agreed to and announce their arrival before installing. Hence, you feel secure once they start. Should you have any last-minute questions, feel free to inquire, and you should expect a courteous, knowledgeable response from any crew members.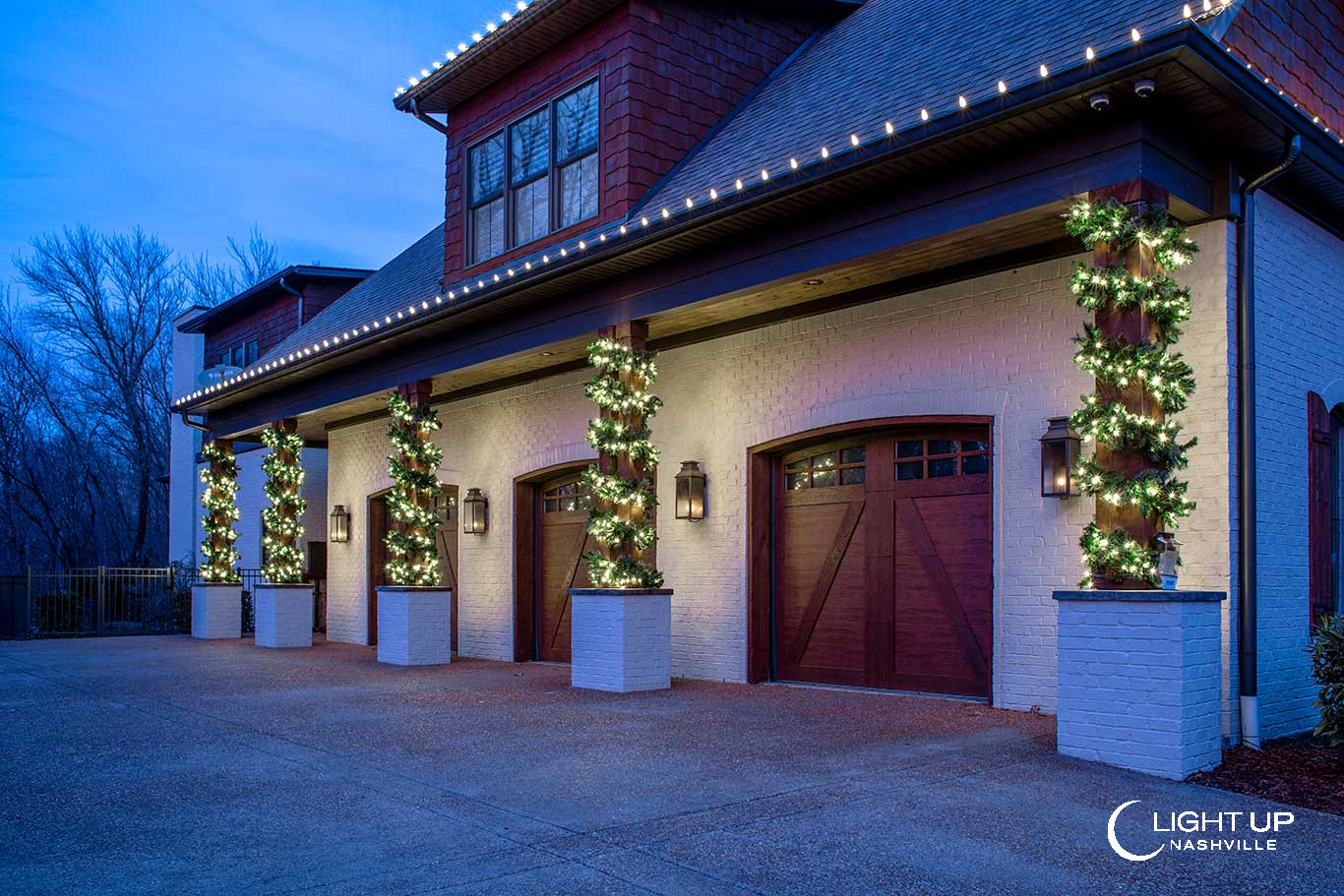 Installation is not merely about light placement and color selection. Custom cut wiring will match your home's precise dimensions leaving no unsightly tangles of multi-socket extension cords. A low voltage transformer enables your system to run through a primary wire with custom cut leads to specific strands of light. Wiring will be meticulously hidden, allowing your home to look as pristine as it does during the rest of the year.
A professional lighting installation would not be complete without incorporating a timer for worry-free control of your lighting. Set to your personal preferences, you will enjoy confidence knowing your home or business is illuminating correctly, whether you are there or not.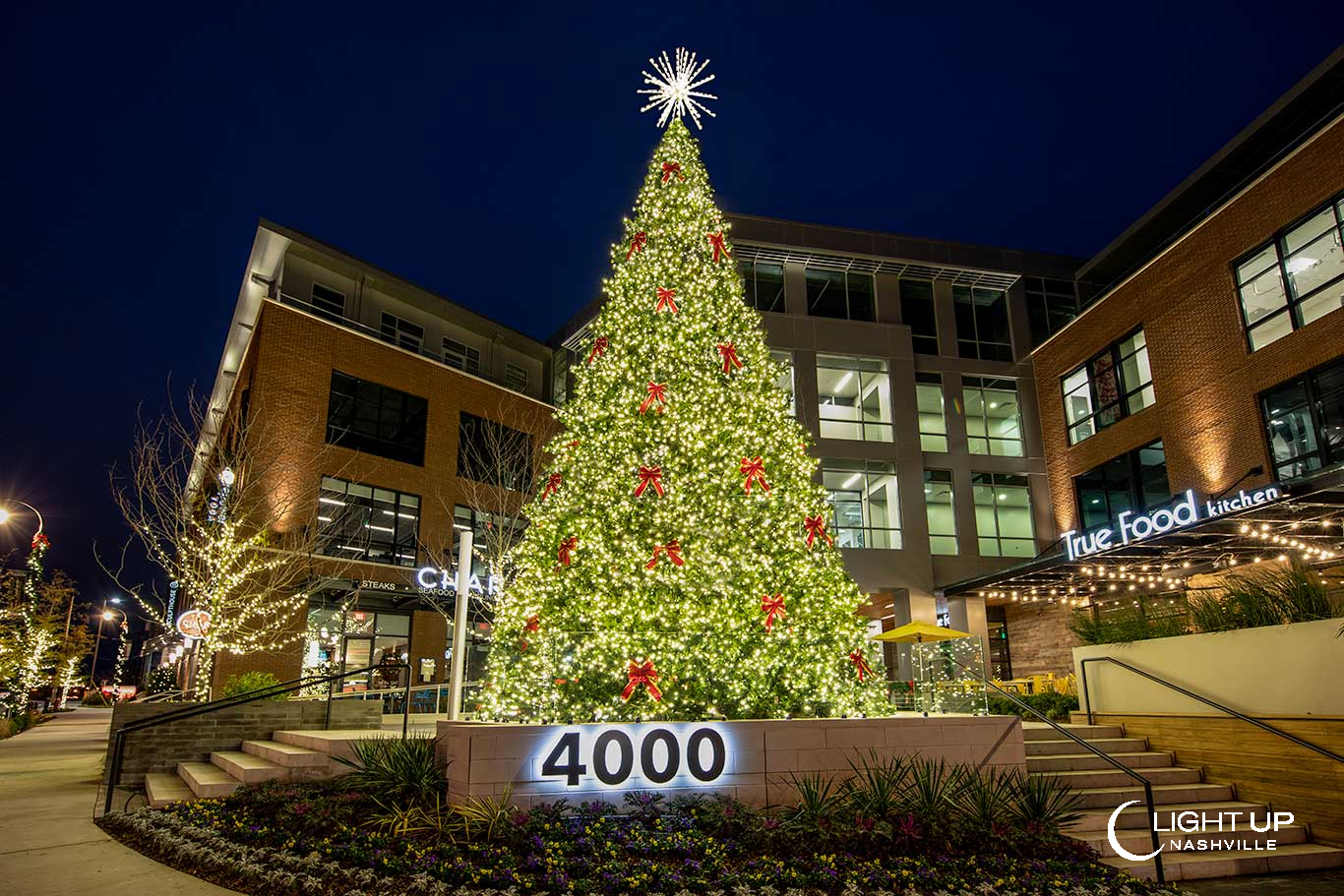 Flawless Performance - Professional lighting installers should be using commercial-grade products (not the bargain lights you find at Home Depot). The result is a more vibrant and consistent color from your lighting system. Not only that, your lights and garland should come with a substantial warranty, typically up to 5 years. Any issue should be addressed and corrected with 24 hours. Be sure your lighting professional has a service department to ensure you experience perfect uninterrupted lighting throughout the season.
Timely Removal & Storage - Never worry about cleaning up your lighting after the holidays again. When you schedule your installation, you will also have the opportunity to plan your removal date. You no longer have to use attic or garage space to store your lighting. True lighting professionals will remove and carefully pack your lighting for placement in an environmentally controlled storage facility. Your lighting, wiring, and garland are protected and stored until next season. The following season your systems will be inspected and tested before installation. You can expect years of enjoyment of your lighting and only pay for the labor to install the systems in the following seasons. You are investing in years of enjoyment and worry-free lighting, and it's not asking too much to expect perfection in your lighting for years to come.
Schedule your lighting today - As more people realize the benefits of professional holiday lighting, you should be scheduling your design consultations now. While it may seem early to some to plan Christmas lighting in early November, you will want to ensure you can promptly schedule your installation. The further into the season, you may need to be flexible on your installation date as there are limited days to install lighting leading up to Christmas.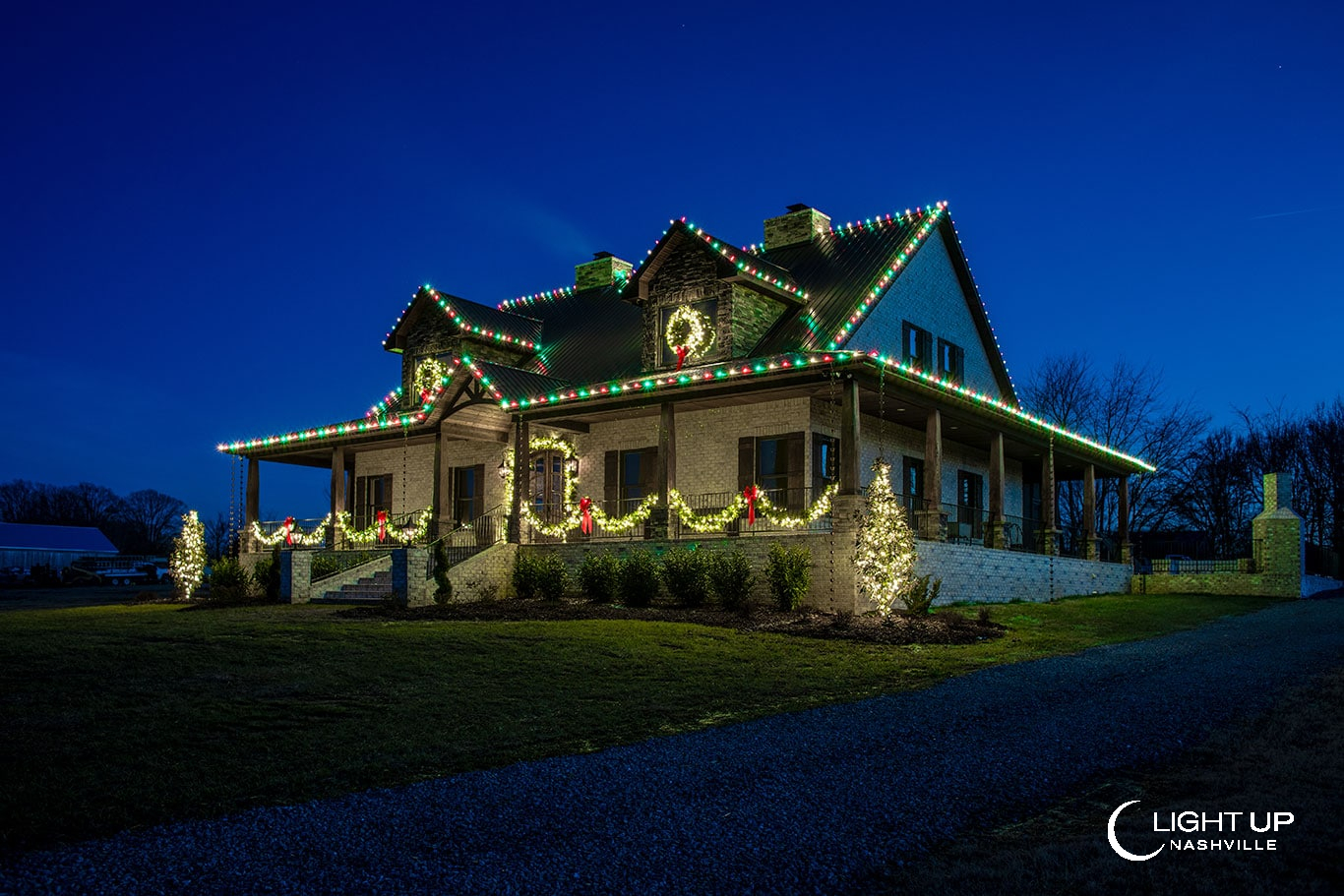 Relax and Enjoy More of the Christmas Season This Year
At Light Up Nashville, we have helped hundreds of homeowners and businesses in the middle Tennessee region enjoy dramatic Christmas lighting for over ten years. As a locally owned business focused on Holiday Lighting Installation, we take pride in designing and installing lighting displays to create memories to last a lifetime.
Our team of committed professionals have been working with us for years to ensure we can provide homeowners with:
Industry Product Knowledge - We keep up with innovation and advances in lighting.
Lighting Design & Installation - Your lighting is meticulously installed, removed, and stored as though you are part of our family.
Quick & Responsive Service - We are accessible to you at any time with questions or assistance you may need to keep your lighting running smoothly.
Respectful Professionalism - You will get to know and trust our team over the years in helping make your holiday a more joyous experience.
For the last three consecutive years, Light Up Nashville has been recognized nationally with the Best Holiday Lighting Design Award from the Association of Outdoor Lighting Professionals. We are committed to ensuring you experience a flawless customized lighting display. Dazzle your guests, create lasting memories, and be the envy of the neighborhood for years to come.
We invite you to make this holiday season more festive, relaxed, and joyous so you can focus on what is truly important this time of year.
To schedule your complimentary design consultation, please visit:
https://lightupnashville.com/holiday-lighting/