When Is Core Drilling a Necessity?
In our years of lighting experience, we have found that there are many times we need to place a directional light fixture in concrete to produce the best lighting effects. This is common when needing to illuminate garage facades, trees along the driveway, front patio facades, retaining walls, porte cochere, and other parts of a property with no turf nearby.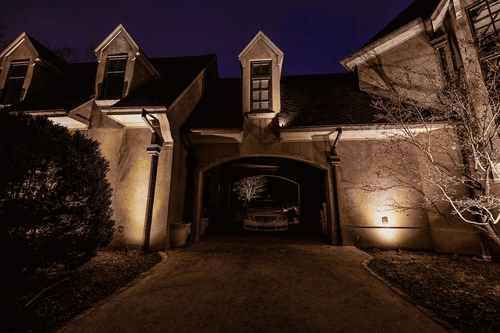 Before and after lighting effect with flush mounted, core drilled well lights
If we are involved in the project before the concrete has been poured, we can rough the fixture in ahead of time. This means we run conduit for our wires and put a concrete mold where the light fixture will be placed so when the time comes we can simply drop in the fixture.
More often than not, however, we work with clients to light their already built homes so pre-wiring and setting concrete molds is not an option at this point. When this happens, we use a core drill to core out a 2" hole in the concrete and then recess a well light fixture into the cored hole. The recessed well light in concrete looks clean and like it was built with the home and it'll never get knocked over! But coring the hole is just the start, we also need to cut a wire path for the low voltage wire that will power this fixture. Keep reading and you'll see how we do this.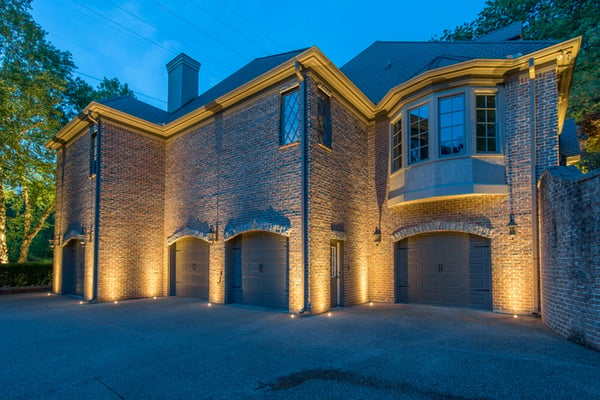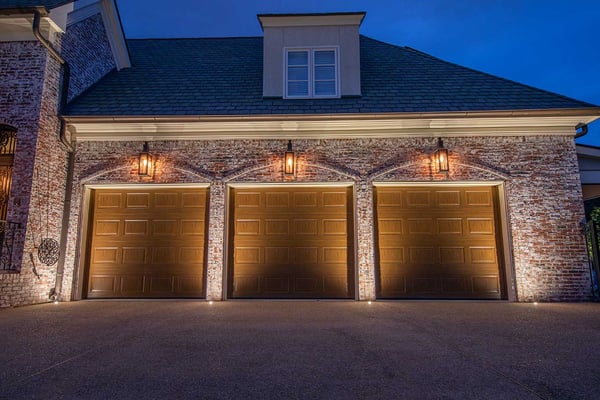 Measure Three Times, Drill Once
Before we drill our hole, we need to carefully measure and mark where we want the light fixture to be placed. Depending on the lighting effect we're looking for, this is usually somewhere between 10" - 14" off the facade. Once we have identified where we want the light fixture placed, we mark that location in pencil or chalk.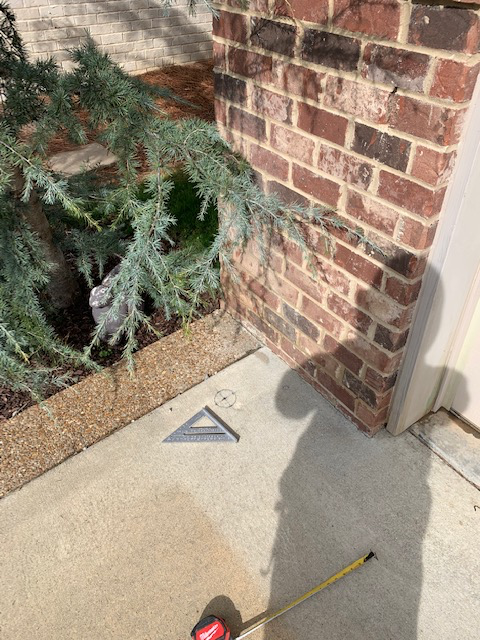 Once we have marked exactly where we want the fixture to go, we core drill the hole. In the image below, we see one of our lighting techs using the core drill to create a hole in the concrete where we want to place a flush mounted well light.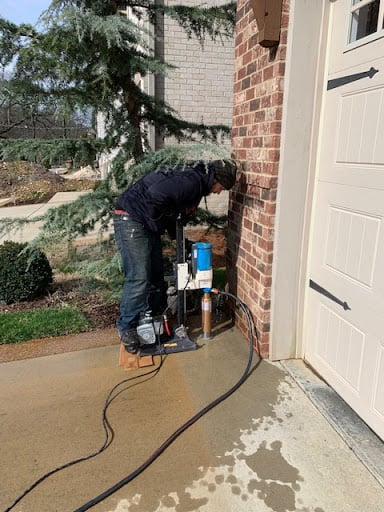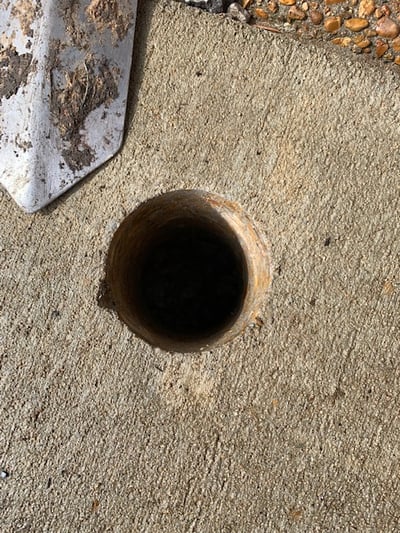 After we have drilled out the hole for our light, we need to create a wire path. In this scenario, we were close enough to the edge of the driveway to drill through the hole towards the turf to enable us to pull the wire out. Many times, this isn't possible and we need to find other ways to get wire cleanly to our fixture. This can be done by using expansion joints in the concrete, creating new expansion joints if none exist, or running wire through the seam where the driveway meets the brick and mortaring over the wire. Every project is different, so it is essential to always plan the wire runs before core drilling.
Fixtures must be level before we use a light adhesive to hold the fixture in place.
Below we see a completed installation, with the fixture in place. Note that on this fixture, we are running our wire through the expansion joint in the concrete because this location is between two garage doors and well over 10' from the edge of the driveway. We cut the expansion joint down about ¼ of an inch, lay our wire as deep in the expansion joint as possible, and used a clear silicone to hold the wire in place. We then mix the dust that's created by routing out the joint with silicone. Once it dries, it seamlessly blends in to appear as if it had always been that way.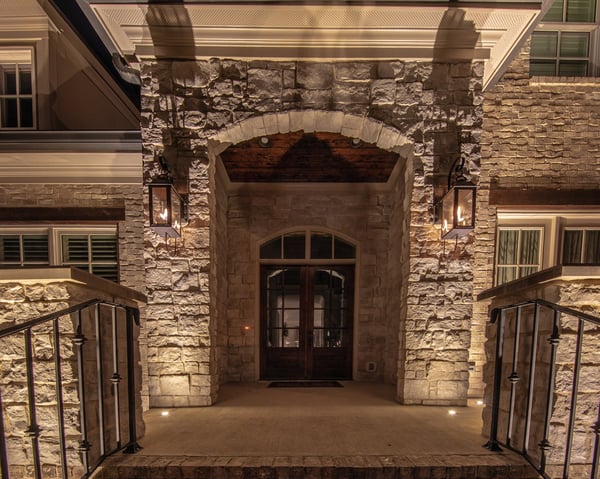 Professional Lighting Specialists
Installing core drilled fixtures takes training, skill, and experience. Companies that do not solely focus on exterior lighting, such as landscapers or general contractors, would never attempt to drill through your driveway. Concrete has no forgiveness and mistakes would be costly. A common suggestion to avoid core drilling is to install a surface mounted directional light, where the fixture is adhered to a metal plate and then adhered to the top of the concrete. This is not only unsightly, but also extremely impractical. If this were placed in a driveway, and a car were to hit it, it would destroy the fixture and lamp inside. Installing core drilled, flush mounted driveway lights avoids this completely - you can drive your car over it all day long, and it will be no worse for the wear. And as you can see from our photos below, it will look absolutely stunning.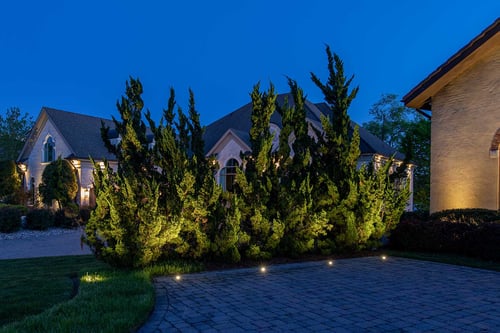 If you have any questions or would like to discuss your lighting needs, please feel free to request a free consultation online.
We're a local business and we've been lighting up Nashville since 2012. Our team has years of experience creating and installing unique and elegant outdoor lighting designs, and providing maintenance and repair services to homes and businesses across Middle Tennessee. Our award-winning company has been voted 1st in Nashville House & Home for landscape lighting for four consecutive years and Best of Houzz for the last three years.
Located in Goodlettsville, Light Up Nashville services Nashville, Brentwood, Franklin, Hendersonville, Gallatin, the surrounding areas and beyond.