Big news! Today we're unveiling our newly redesigned brand identity, which includes our new logo. You'll see our new look on our website, our email signatures, and on our social media pages like Facebook, Instagram, Houzz and Twitter. Soon, you'll see the new look on our trucks and our crew's work shirts. We believe the new look better illustrates our brand and what we've become known for: excellent outdoor lighting design.
We went from this...
... to this!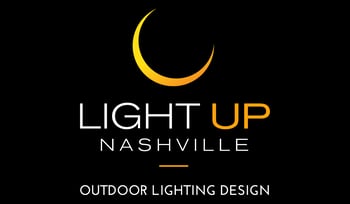 Reasons We Rebranded:
The lightbulb in our previous logo was perceived as an incandescent bulb, but we primarily install LEDs.
The old logo looked dated, stale, and average. Our vision for Light Up is the exact opposite so we felt a new, more modern look was important.
Maybe more than anything else, our design expertise sets us apart from our competitors. The lack of excellent, thoughtful and creative lighting design in Nashville was one of the driving factors for our owner to start the company back in 2012. Our new logo further drives this message home; we are lighting designers first and foremost.
We're still the same group of lighting enthusiasts, dedicated to offering high-quality outdoor lighting designs along with the best customer service across Middle Tennessee, but with a new, fresh face.
---
If you have any questions or would like to discuss your lighting needs, please feel free to request a free consultation online.
We're a local business and we've been lighting up Nashville since 2012. Our team has years of experience creating and installing unique and elegant outdoor lighting designs, and providing maintenance and repair services to homes and businesses across Middle Tennessee. Our award-winning company has been voted 1st in Nashville House & Home for landscape lighting for four consecutive years and Best of Houzz for the last three years.
Located in Goodlettsville, Light Up Nashville services Nashville, Brentwood, Franklin, Hendersonville, Gallatin, the surrounding areas and beyond.