More often than not, outdoor lighting is an after thought on new home build construction projects. It shouldn't be. Exterior lighting is an important considerations when building a new home. Working with a professional outdoor lighting designer during the build phase will ensure the exterior lighting is not an afterthought and doing so could help you save money on unnecessary outdoor lighting your builder or electrician is suggesting.
Pre-Wire/Rough-In for Low Voltage Outdoor Lighting
It's much easier and less costly to run wire and conduit during the construction phase rather than after the home is built. A seasoned lighting designer will suggest where future light fixtures will be needed and develop and plan for where wire should be ran now. Some examples include running wire across the driveway or walkways before the concrete is poured or pre-wiring for recessed up lights on covered patios etc. Pre-wiring for future low voltage lighting ensures fixtures can be placed exactly where they're needed to achieve the desired lighting effect.
Above: pre-wire work for future low voltage lights, recessed in concrete drive lighting retaining wall
Below: pre-wire work for future low voltage lights recessed in travertine patio up lighting columns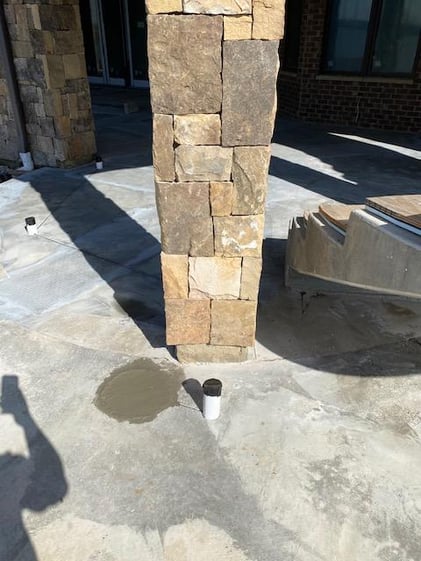 Homebuilders and electricians are notorious for pushing homeowners to install recessed soffit downlights and flood lights. These are dated ways of lighting the exterior of a home and there's a better way!
Avoid Soffit Downlights
Recessed soffit downlights are not the best way to light a home. Soffit downlights miss important architectural features such as gables and dormers, they're typically too close to the homes facade resulting in unattractive and hot streaks of light running down the home and they produce glare which is distracting. Soffit downlights make a home look like it's blasting off to outer space!
Instead consider up lighting your home's architecture. Low voltage lights can be placed in the flowerbeds along the homes foundation and softly graze up the home, accentuating the architecture. Grazing the home's architecture brings out the texture of the stone or brick and looks beautiful. Up lighting also allows us to highlight gables and dormers on a home, which are typically important architectural features that are otherwise lost after sunset. Without the peak gables and dormers lit, the scale of the home is lost after dark.
Not only does up lighting produce a more attractive effect with more flexibility, it's typically less expensive than soffit mounted downlights.
Limit the Use of Flood Lights
Flood lights create glare and they're usually overly bright. We always suggest limiting the use of flood lights when building a home. When downlighting is necessary, consider downlighting with a fixture that has a glare shield so only the lighting effect is visible (not the source of light). Downlighting should be soft and attractive, not bright and invasive.
If you're building a home in Middle Tennessee give us a call, we'd be happy to work with you and design the outdoor lighting system you need.