More often than not, new home outdoor lighting is an afterthought on new build construction projects. It shouldn't be. Exterior lighting is an important considerations when building a new home. Working with a professional outdoor lighting designer during the build phase will ensure the exterior lighting is not an afterthought and doing so could help you save money on unnecessary outdoor lighting your builder or electrician suggests.
Pre-Wire/Rough-In for Low Voltage Outdoor Lighting
It's much easier and less costly to run wire and conduit during the construction phase rather than after the home is built. A seasoned lighting designer will suggest where future light fixtures will be needed and develop and plan for where wire should be run now. Some examples include running wire across the driveway or walkways before the concrete is poured or pre-wiring for recessed up lights on covered patios etc. Pre-wiring for future low-voltage lighting ensures fixtures can be placed exactly where they're needed to achieve the desired lighting effect.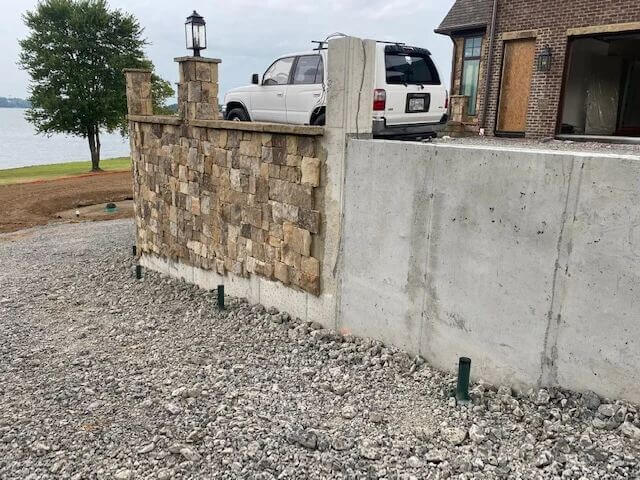 Above: pre-wire work for future low voltage lights, recessed in concrete drive lighting retaining wall
Below: pre-wire work for future low voltage lights recessed in travertine patio up lighting columns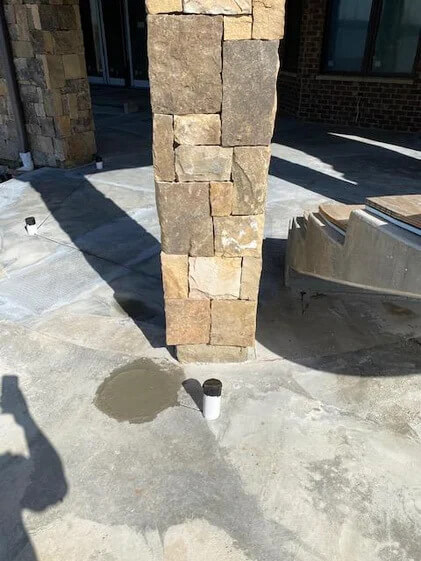 Homebuilders and electricians are notorious for pushing homeowners to install recessed soffit downlights and flood lights. These are dated ways of lighting the exterior of a home, and there's a better way!
Cost-Effective Pre-Wiring for New Home Outdoor Lights
When it comes to incorporating your new home outdoor lights construction, one of the most cost-effective strategies is pre-wiring for low-voltage outdoor lighting during the initial building phase. This proactive approach ensures that your future lighting fixtures can be placed precisely where they are needed to achieve your desired lighting effect.

Consider the benefits of pre-wiring before the concrete is poured for driveways or walkways or when planning for recessed uplights on covered patios and more. By pre-wiring strategically, you'll save both time and money compared to retrofitting lighting fixtures after your home is built.

Pre-wiring not only streamlines the installation process but also allows for a seamless integration of lighting into your home's architectural design. It's an investment that pays off in terms of both aesthetics and efficiency, setting the stage for a well-illuminated and secure outdoor environment.
Avoid Soffit Downlights
Recessed soffit downlights are not the best way to light a home. Soffit downlights miss important architectural features such as gables and dormers, they're typically too close to the home's facade, resulting in unattractive and hot streaks of light running down the home. They also produce a distracting glare. Soffit downlights make a home look like it's blasting off to outer space!
Instead, consider up lighting your home's architecture. Low voltage lights can be placed in the flowerbeds along the homes foundation and softly graze up the home, accentuating the architecture. Grazing the home's architecture brings out the texture of the stone or brick and looks beautiful. Up lighting also allows us to highlight gables and dormers on a home, which are typically important architectural features that are otherwise lost after sunset. Without the peak gables and dormers lit, the scale of the home is lost after dark.
Not only does up lighting produce a more attractive effect with more flexibility, it's typically less expensive than soffit-mounted downlights.
Alternatives to Soffit Downlights for New Home Outdoor Lights
While recessed soffit downlights have been a common choice for lighting the exterior of homes, there are better alternatives to consider. Soffit downlights can miss important architectural features, cast unattractive streaks of light down the façade, and produce glare, which can be distracting and ineffective in enhancing security.

A more aesthetically pleasing and cost-effective alternative is uplighting your home's architecture. Low-voltage lights strategically placed in flowerbeds along the foundation gently graze up the walls, accentuating architectural textures and features. This approach brings out the charm and scale of your home, making it a standout in the neighborhood.

Uplighting not only delivers a more attractive effect but also offers greater flexibility in achieving your desired lighting goals. By choosing this approach, you can transform your home into a nighttime masterpiece that's both visually stunning and functionally effective.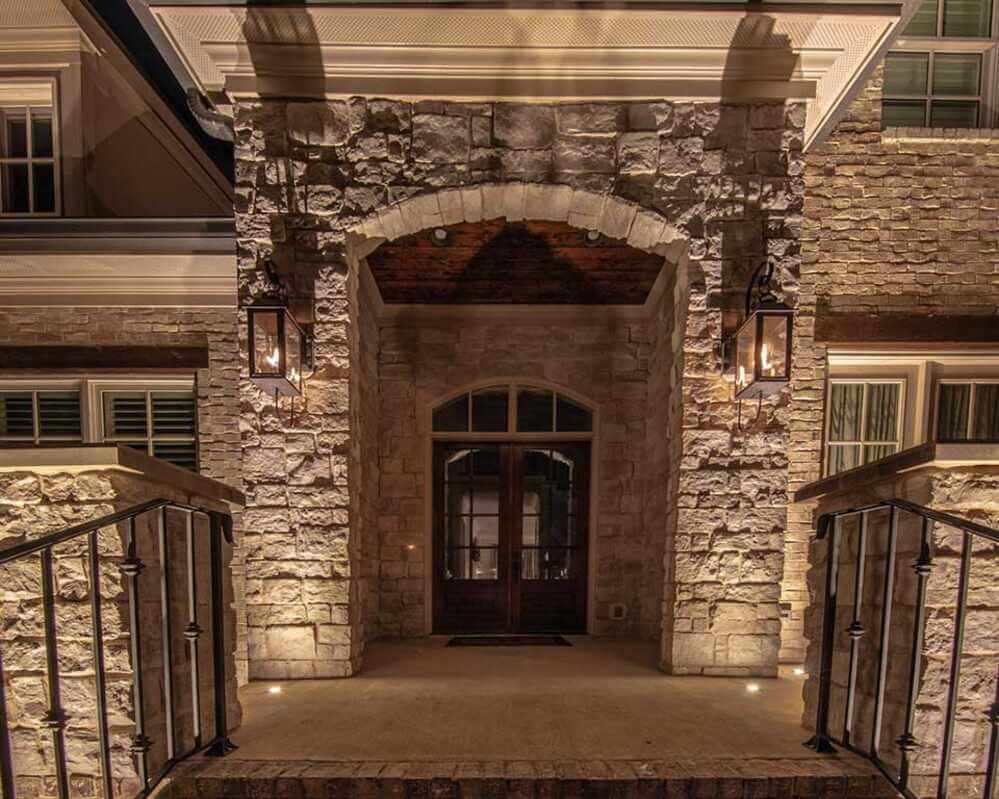 Limit the Use of Flood Lights in New Home Outdoor Lights
Flood lights create glare and they're usually overly bright. We always suggest limiting the use of flood lights when building a home. When downlighting is necessary, consider downlighting with a fixture that has a glare shield so only the lighting effect is visible (not the source of light). Downlighting should be soft and attractive, not bright and invasive.
Highlighting Architectural Features
Your new home's architectural features are not just structural elements; they're expressions of your unique style and taste. Architectural lighting design can breathe life into these features, making them shine after the sun sets.
Consider the impact of well-placed lights that graze up your home's façade, accentuating the textures of stone or brick and enhancing its overall curb appeal. With the right lighting, your gables and dormers, those distinctive architectural details, come to life in the evening, adding depth and character to your home.
Architectural lighting is not just about functionality; it's about artistry. It's about creating a warm and inviting ambiance around your home that reflects your personality. By highlighting these architectural features, you not only enhance the beauty of your home but also make a statement that lasts long after dark.
Creating a Warm Ambiance
Your new home is more than just a structure; it's a place where memories are made, where friends and family gather, and where you find solace at the end of the day. Outdoor lighting isn't just about functionality; it's about setting the stage for memorable moments and infusing warmth into your living space.

Imagine stepping outside into your beautifully illuminated outdoor haven, where soft and inviting lighting transforms your surroundings into a cozy retreat. Well-placed lights gently guide your path, casting a warm glow on pathways, steps, and walkways, ensuring that you and your loved ones can navigate your outdoor spaces safely and comfortably.

A well-designed outdoor lighting system not only enhances the aesthetics of your new home but also extends the usability of your outdoor spaces well into the evening. Whether you're hosting a gathering on the patio, enjoying a quiet evening on the deck, or simply taking a leisurely stroll through your garden, the right lighting creates an ambiance that envelops you in comfort and relaxation.

By investing in outdoor lighting that prioritizes a warm and welcoming atmosphere, you not only elevate the beauty of your new home but also create an environment where cherished memories are made. It's the subtle art of lighting that turns your house into a home, ensuring that every evening is a delightful experience for you and your loved ones.
Collaboration with Professionals for New Home Outdoor Lights
When it comes to maximizing the benefits of your new home outdoor lights, collaboration with a professional outdoor lighting designer is key. At Light Up Nashville, our experts bring a wealth of knowledge and experience to the table, ensuring that your lighting design aligns seamlessly with your vision and the unique attributes of your property.

Working with a lighting designer during the construction phase allows for precise planning and pre-wiring, saving you time and money. These professionals can assess your property's specific lighting needs, suggest placement for fixtures, and create a customized lighting plan that enhances both aesthetics and security.

Incorporating the expertise of a lighting designer like Light Up Nashville ensures that your outdoor lighting system is well-crafted, energy-efficient, and compliant with local regulations. It's an investment that guarantees the long-term success of your architectural lighting, transforming your new home into a radiant masterpiece.
For more outdoor lighting techniques, check our blog for ideas.
We're a local business that has been lighting up Nashville since 2012. Our team has years of experience creating and installing unique and elegant outdoor lighting designs and providing maintenance and repair services to homes and businesses across Middle Tennessee. Our award-winning company has been voted 1st in Nashville House & Home for landscape lighting for four consecutive years and Best of Houzz for the last three years.