Throughout middle Tennessee, we've all experienced it. You are driving home in the evening and see a dramatically illuminated property and marvel at how it looks even better at night. As a result, you've likely considered adding lighting to your own home but are not sure how much a professional would charge to install outdoor lighting.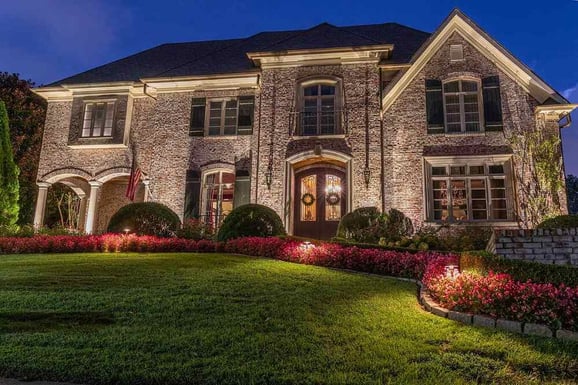 In Nashville and the surrounding area, you can expect to pay somewhere between $300 to $350 per light installed. The pricing covers the design, fixtures, other installation materials, specialty equipment, and labor. We will examine each of these elements individually as you evaluate hiring a lighting professional. So let us break down the why of your question: What exactly is the cost of outdoor lighting?
Cost of Outdoor Lighting #1: Quality Lighting Fixtures
Consider your light fixtures will be under constant exposure to the elements for years. We live in a region where we experience all forms of weather, so your outdoor lighting needs to hold up to the heat, cold, rain, and snow that we can anticipate throughout the year. The good news is that these fixtures exist, and, reputable lighting designers will use them to ensure you never have to deal with a failing system.
Typically, quality fixtures are constructed from brass, copper, or stainless steel. These are not inexpensive materials but will ultimately save you money from having to repair or replace an inferior product. Materials such as aluminum or plastic may seem attractive from a price point but will likely fail within a year or two.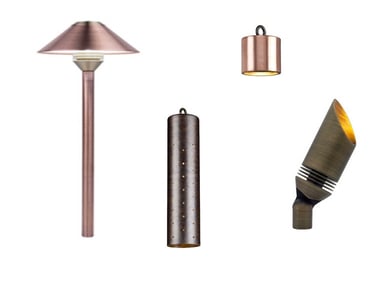 Further to the point, your outdoor lighting fixture should come with a lifetime warranty. Make sure you confirm that assurance with your lighting designer. When you view this as an investment in your quality of life, expecting ongoing flawless performance is not too much to ask. At Light Up Nashville, the flawless performance of your lights is the root of all we do.
Cost of Outdoor Lighting #2: Other Materials
Professional outdoor lighting requires other materials beyond the fixture itself. They include lamps, wires, clips, transformers, and other materials necessary based on how and where the fixtures are installed. (We will cover this in more detail while addressing custom design).
Perhaps the most important component after the fixture itself is the lamp. LED lighting quality can vary dramatically based on the components.

Again, a higher-quality lamp will use superior components that deliver consistency in terms of light intensity and color. You should expect your lamps to come with a lifetime warranty as well. Anything less will result in lamps failing randomly over time. There's nothing worse than having sections of your lighting fail, leaving you with dark patches on your home or property. You are paying for consistent, flawless lighting at all times.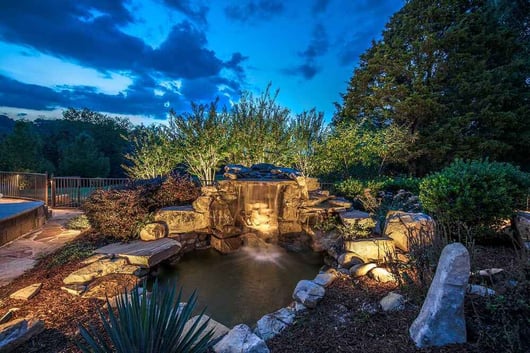 Cost of Outdoor Lighting #3 - Custom Design
The dramatically lit property that impressed you during your evening drive likely had a custom lighting design installed. Your home and landscape have unique characteristics. Your personal need for lighting may be to accentuate your garden at night or add security to your arrival at home (or both). A lighting professional will provide you with a design based on your specific needs and the layout of your property. A well-thought-out design can take several days to a week, based on the complexity of your project, and in most cases, the design is built into the project cost.
A professional lighting design will be able to position lighting in places you likely never thought of. And that is ultimately what delivers the truly dramatic results. Positioning indicator lights in driveways or mounting lighting in existing stone or brick hardscapes require investment in specialty tools and training and are what factor into the final cost of outdoor lighting.
When you're getting a service that's as unique as your home, the cost of outdoor lighting will be custom to each project, too.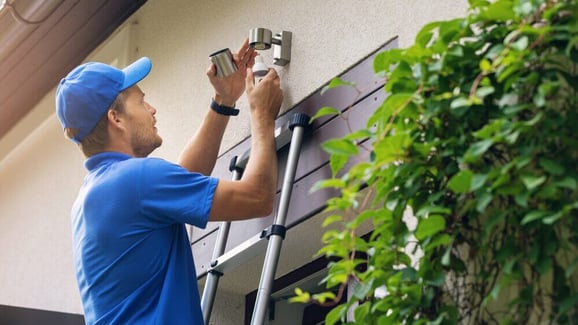 Results
Like most products or services, you get what you pay for, and lighting is no different. Poor execution will devalue your home and your enjoyment of it, while quality outdoor lighting design will transform your home into something extraordinary at night.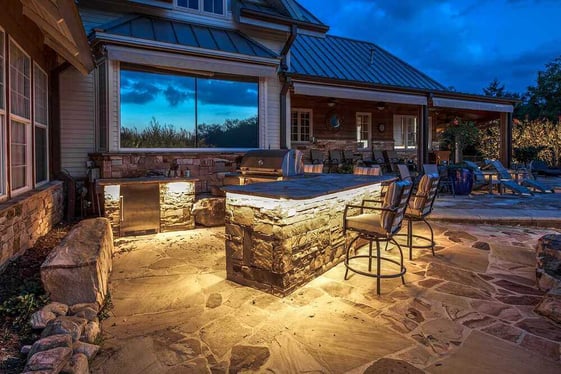 Inspired results come from a blend of all types of lighting. Uplighting, wash lighting, area lighting, path lighting, downlighting, moonlighting, and other techniques ultimately elevate your home above others.
It takes skill to precisely install and maintain lighting in trees, gutters, under soffits, and other areas. This requires the training of installation technicians and maintenance personnel. If your lighting designer does not offer these lighting options, you may be better off looking elsewhere.
Over time, your landscape will grow and will require light pruning or fixture adjustments to maintain its dramatic effects. You should be expecting a partner rather than an installer of your lighting. True lighting professionals are as concerned with the ongoing performance of your system as they are with the initial installation. Your lighting should always be a source of comfort and relaxation.
You can enjoy outdoor lighting year-round.
For nearly a decade, Light Up Nashville has helped hundreds of homeowners and businesses in the middle Tennessee region enjoy dramatic outdoor lighting. As a locally owned business focused on architectural, landscape, and holiday lighting, we take pride in creating custom lighting solutions that deliver lasting enjoyment for our valued customers. Your evenings will transform and become a source of pride by creating lasting memories for you and those who matter most.
Our team of committed lighting professionals has been working with us for years to ensure we can provide homeowners with:
Industry Product Knowledge - We keep up with innovation and advances in lighting.
Lighting Design & Installation - Your lighting is meticulously installed, with products that come with a lifetime warranty.
Quick & Responsive Service - We are accessible to you anytime with questions or assistance you may need to keep your lighting running smoothly.
Respectful Professionalism - We value your business and respect your privacy. We alert you of when we will be on your property and are available to answer any questions you may have.
Light Up Nashville is an award-winning firm recognized nationally by the Association of Outdoor Lighting Professionals and is the only five-time winner of Nashville Home & Garden's Reader Favorite award. We are committed to ensuring our community experiences beautiful evening lighting. Dazzle your guests, create lasting memories, and be the envy of your neighborhood for years to come.
We invite you to make this year a year to enjoy the relaxation, tranquility, and security you will experience with professional outdoor lighting.
To schedule your complimentary design consultation, please contact us.