If you've been looking into improving your outdoor spaces recently, you may have come across the idea of recessed concrete lighting and wondered what that could mean for you and your property. It's very simple - they're the perfect solution when outdoor lighting is needed over concrete. When you're looking for a more integrated look than basic rope lights or outdoor LED lights, recessed lighting can be an excellent upgrade to your space.
A recessed concrete light conceals a light fixture flush with the pavement, allowing the fixture to disappear and create the illusion of light emitting out of the ground. This creates dramatic and impressive nighttime effects and a rich, high-end look ideal for outdoor spaces. Some of the best and most common applications of recessed concrete lighting are:
Lighting architecture over concrete
Lighting garage doors
Uplighting home from patio
Lighting outdoor statues
Walkway marker lighting
Driveway indicator lighting (aka driveway marker lights)
Benefits of Recessed Concrete Lighting
When it comes to enhancing your outdoor spaces, recessed concrete lights stand out as an ingenious solution with many benefits. Let's explore why it's becoming a popular choice for homeowners and property enthusiasts alike.

1. Elevating Aesthetics: Recessed concrete lighting has the remarkable ability to elevate the aesthetics of your property to a whole new level. By concealing light fixtures flush with the pavement it creates a captivating illusion of light gently emanating from the ground itself. This effect lends a touch of enchantment to your outdoor areas, transforming them into breathtaking, high-end spaces perfect for relaxation and entertainment. Imagine the warm glow of hidden lights accentuating your garden, patio, or outdoor seating area, setting the mood for unforgettable evenings under the stars.

2. Damage Reduction: Outdoor spaces can be bustling with activity, and traditional above-ground lighting fixtures are often vulnerable to damage or displacement. Recessed concrete lighting, however, is set below grade, providing a protective shield against accidental impacts. Whether it's children playing, guests mingling, or pets exploring, these fixtures remain resilient and unobtrusive, ensuring your outdoor lighting stays as beautiful as the day it was installed.

3. Trip Hazard Elimination: Safety is a paramount concern in any outdoor environment. Uneven or above-ground fixtures can create tripping hazards, especially in low-light conditions. Recessed concrete lighting eliminates this risk entirely. By seamlessly blending with your outdoor surfaces, these fixtures eliminate protruding elements that could potentially cause accidents, ensuring your outdoor space is both inviting and safe.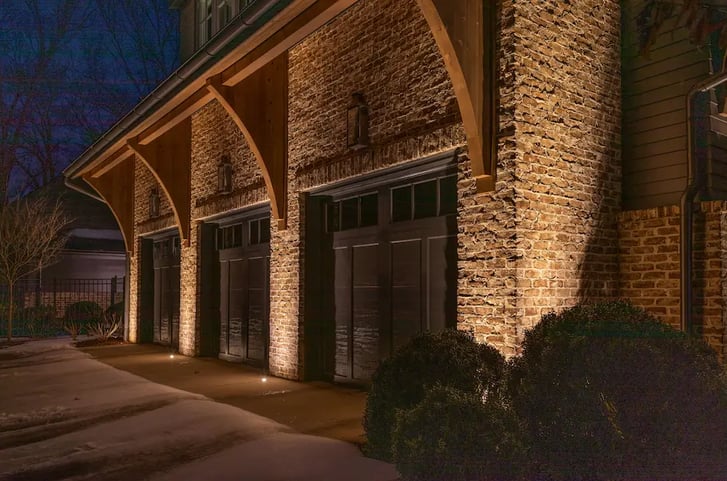 Common Applications of Recessed Concrete Lights
Recessed concrete lighting is a versatile and enchanting solution that can be creatively applied to various outdoor spaces, enhancing their beauty and functionality. Let's delve deeper into the specific uses of recessed concrete lighting, expanding on the list provided in the blog, and explore how these fixtures can be effectively employed to illuminate architectural features, garage doors, statues, walkways, and driveways.
Illuminating Architectural Features
Recessed concrete lighting is a powerful tool to accentuate the architectural charm of your home or other structures on your property. These fixtures can be strategically placed to cast a soft, ethereal glow, highlighting key design elements. For instance, consider how discreetly placed fixtures can gently illuminate the intricate details of a grand entrance, showcasing the craftsmanship of your home's facade. This not only adds an elegant touch but also enhances the curb appeal of your property.
Enhancing Garage Doors
Garage doors often go unnoticed during the nighttime, but with recessed concrete lighting, they can become captivating focal points. By installing fixtures near or beneath garage doors, you can create a welcoming and secure ambiance. Imagine a warm, inviting radiance guiding you home after a long day, not to mention the added security benefits of a well-lit garage entrance.
Showcasing Statues and Artwork
If you have outdoor sculptures or artwork adorning your property, recessed concrete lighting can transform them into captivating nocturnal masterpieces. Precision placement of these fixtures can highlight the contours and textures of your statues, turning your garden or yard into an outdoor gallery. Picture a serene garden statue bathed in gentle light, adding a touch of elegance to your landscape.
Illuminating Walkways
Walkways and paths come alive with recessed concrete lighting. These fixtures can be embedded along the edges or at intervals to create a well-defined and safe pathway. Whether guiding guests to your front door or meandering through a garden, the soft glow from these fixtures not only adds a sense of enchantment but also prevents accidents by eliminating tripping hazards.
Driveway Drama
Your driveway can be more than just a utilitarian space; it can be a statement piece with the right lighting. Recessed concrete lighting can be installed along the edges or within the driveway's surface to provide a dramatic and visually striking effect. As you approach your home, the driveway becomes a captivating focal point, setting the stage for the grandeur that awaits.

In practice, recessed concrete lighting can transform ordinary outdoor spaces into extraordinary realms of beauty and functionality. When strategically placed and thoughtfully designed, these fixtures can turn your property into a masterpiece, adding both aesthetic value and practicality to your outdoor living experience.
Professional Installation and Design Considerations
When it comes to implementing recessed concrete lighting in your outdoor spaces, the importance of professional installation cannot be overstated.
Installing recessed concrete lights can be challenging and is best left to a professional outdoor lighting company that specializes in core drilling. When needing to drill directly into concrete, special equipment, and safety procedures are necessary for a beautiful and professional finish. Light Up Nashville's experts are well-versed in the intricacies of core drilling into concrete, ensuring precision and safety throughout the installation process. Our experience is invaluable in achieving the desired lighting effects for your outdoor spaces.
If you're building a new home in Nashville and want to discuss recessed concrete lights, give us a call today, and one of our lighting design specialists will be happy to assist you.
If you have any questions or would like to discuss your lighting needs, please feel free to request a free consultation online.
We're a local business that has been lighting up Nashville since 2012. Our team has years of experience creating and installing unique and elegant outdoor lighting designs and providing maintenance and repair services to homes and businesses across Middle Tennessee. Our award-winning company has been voted 1st in Nashville House & Home for landscape lights for four consecutive years and Best of Houzz for the last three years.
Located in Madison, Tennessee, we serve Nashville, Brentwood, Franklin, Hendersonville, Gallatin, the surrounding areas, and beyond.