Driveway Indicator Lights
There are many ways to light a driveway and selecting the best fixture for the job is dependent on the terrain around it. For instance, we often downlight driveways from nearby tall trees or structures. Another less common way to light a drive would be to use the traditional path light. But what if there are no established trees nearby to downlight from and what if there is no flower bed to place traditional path lights? We never suggest a traditional path light be placed in turf where mowers and weed eaters can bang them up. In situations like this, in-ground driveway edge indicator lights are a great solution.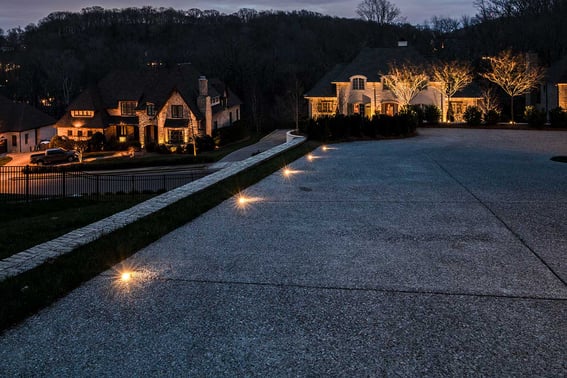 Benefits of Driveway Edge Indicator Lighting
Niche Light Fixture - An effective solution to identifying a driveway after dark when few other alternatives are possible.
Effective - Very effective when used as a marker light to identify the edge or entrance to a drive.
Low Profile - These fixtures are recessed into the concrete & fixed in place, so there is no concern over the fixture getting displaced and the low profile of the fixture prevents them from being a trip hazard.
Robust Construction - The fixtures are heavy duty and designed to allow for vehicles to drive over them.


Versatile

- Can be added onto any existing low voltage landscape lighting system or installed with a new system.
Attractive Modern Design - Has a sleek design that combines both form and function.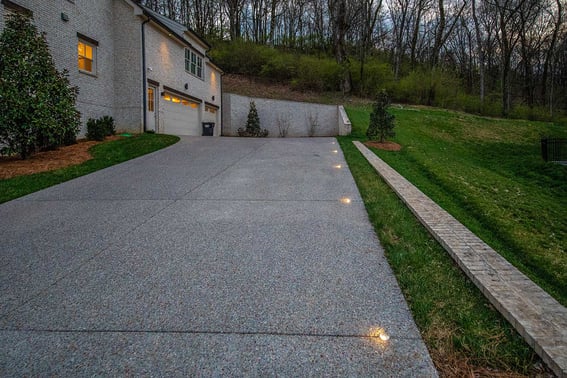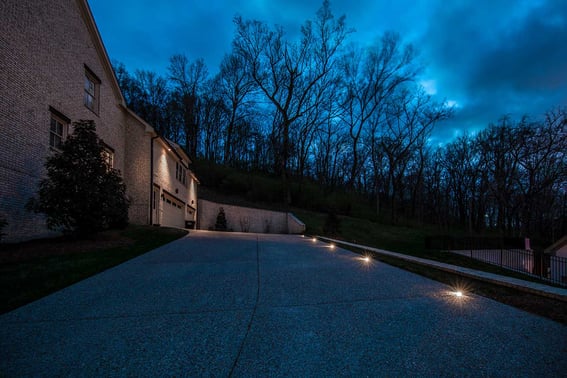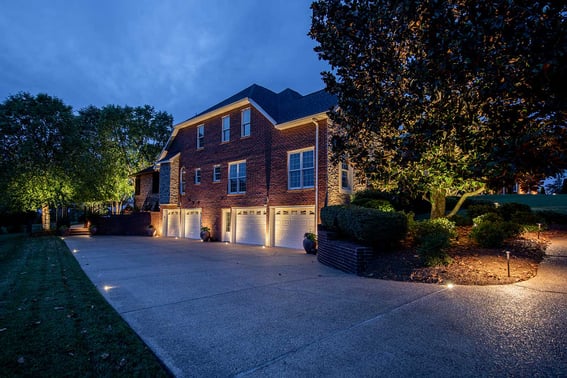 Cons of Driveway Edge Indicator Lights:
Light Distribution - The fixtures don't distribute as much light as a traditional path light or a tree mounted downlight would. If these are being used to indicate the edge of the drive, the light output is perfect. If you're trying to light up a large area, these might not be the best option.
Requires A Professional to Install - Require core drilling into the drive (only a con if someone tries to do this and doesn't know what they're doing).
Can Be Costly - Due to the challenge of installation, they tend to be more expensive than a traditional path light.
---
If you have any questions or would like to discuss your lighting needs, please feel free to request a free consultation online.
We're a local business and we've been lighting up Nashville since 2012. Our team has years of experience creating and installing unique and elegant outdoor lighting designs, and providing maintenance and repair services to homes and businesses across Middle Tennessee. Our award-winning company has been voted 1st in Nashville House & Home for landscape lighting for four consecutive years and Best of Houzz for the last three years.
Located in Goodlettsville, Light Up Nashville services Nashville, Brentwood, Franklin, Hendersonville, Gallatin, the surrounding areas and beyond.