As a business, university, or municipality in the middle Tennessee area, you look forward to the holidays as a way to connect your brand with your customers, students and the community at large. Whether your goal is to encourage shopping activity, express college pride, or simply deliver joy for people in your community, your lighting should always be inspiring and never be a source of frustration.
Yet, as the holidays approach, you often struggle with balancing other year end responsibilities while finding the time to coordinate and install your Christmas lighting display. And even when the lighting is completed the results can be lackluster or worse, the system can fail, resulting in a negative impact on your brand.
Professional Christmas lighting installation removes all of the stress and anxiety you might experience by providing expertise focused solely on commercial holiday lighting. There are however differences in the level of quality that a professional service provider can deliver so here are some key issues to consider.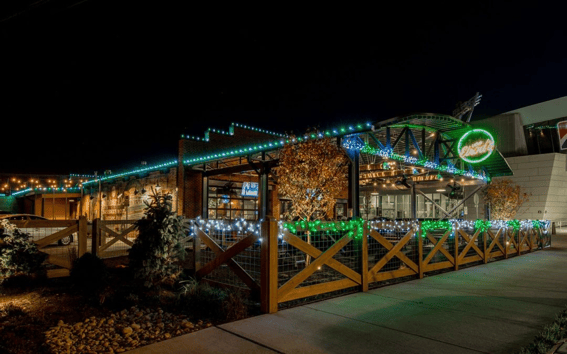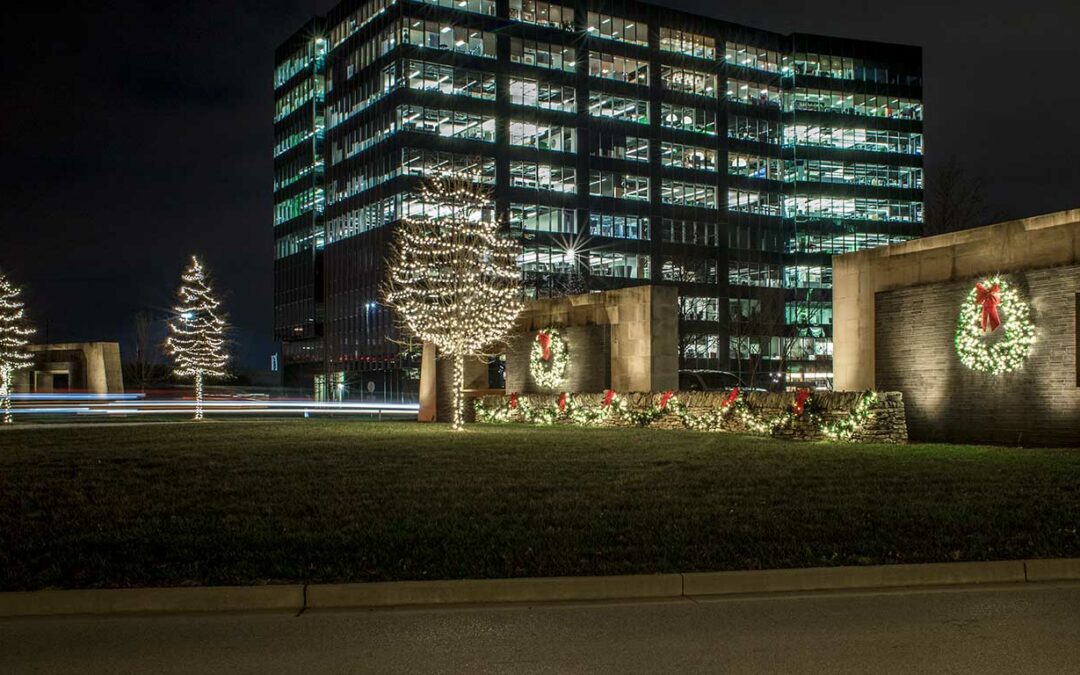 1. Custom Lighting Design
Professional lighting designers should have the expertise and experience to deliver a stunning lighting display for your business. You should expect nothing less than flawless results and a custom design that suits your exact expectations.
Your facility is unique with its own architectural features and landscaping. A true professional will sit down with you to not only determine where to install your lights, but also recommend the proper lights, color, and lighting balance to deliver the impact you wish to achieve.
Based on your unique location you will want to consider:
Trees Wrapped in Lights
Roofline Outlined in Lights
Large Outdoor Commercial Christmas Trees
Lights and Decor Around Property Entrance
Lighted Garland & Wreaths on Entrance Gates
Decorating Entrance Monuments
Light Poles Wrapped in Lighted Garland and Ribbon
Lighted Outdoor Garland Wrapping Columns
Lighted Outdoor Wreaths Over Windows
Bush Wraps
Any unique features on your building or property.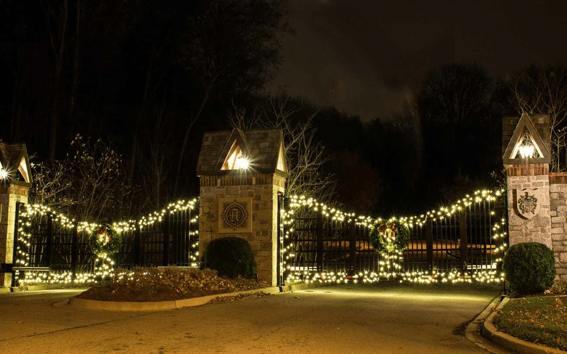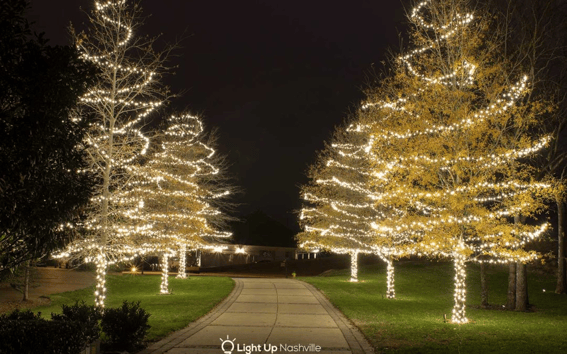 A true lighting designer will take time to discuss with you the purpose for your lighting and review where to best highlight your property. Whether you wish to emphasize your company's pride in your community or more specifically, create an enchanting entryway to drive traffic into your facility, all should factor into the design plan.
Once you have your plan determined, you should ask for a visual representation of the design to review what will be illuminated and how. This will provide a valuable example of just how your lighting will appear prior to installation.
Experienced professionals will also have all the necessary equipment to install lighting without disrupting your facility or property. Custom cut main wiring and other techniques to hide wire will ensure safety for you and the public. A professional will be able to reach high spots on your facility, around columns, and other hard to decorate areas to ensure a balanced look to your display.
How to Vet your Lighting Designer
To further safeguard against hiring an inexperienced designer or installer that will deliver less than spectacular results, be sure to cover these bases when vetting your installer:
Do they have a portfolio of past work?
Not only will this help validate their experience, it will also serve as a design guide to understand what type of lighting you may wish for your own facility.


Do they have references from past customers?
When connecting with a reference, be sure to ask about their entire experience including the design process, installation, maintenance, and removal of their lighting system. You should feel confident knowing you can reach out to your designer with any questions or assistance. Same day response time should be expected.


Do they have any certifications or awards in the holiday lighting category?
Third party recognition indicates an established professional who is invested in providing leading edge design, products, and service.
The answers to these questions will enable you to move forward with confidence and focus on enjoying the holidays and time spent on other priorities.
More than Lights
When decorating the exterior of your office, and the surrounding landscape, what sets great design apart is the incorporation of bows, garland, Christmas trees and other materials to deliver that truly festive feel. And you should expect these elements to last for more than a single season. If there are any issues, they should be under warranty and replaced immediately. Be sure to inquire about the quality of garland and wreaths and warranties associated with them. By incorporating these quality elements into your lighting plan, you will enjoy a more complete holiday atmosphere and have those features available for years to come.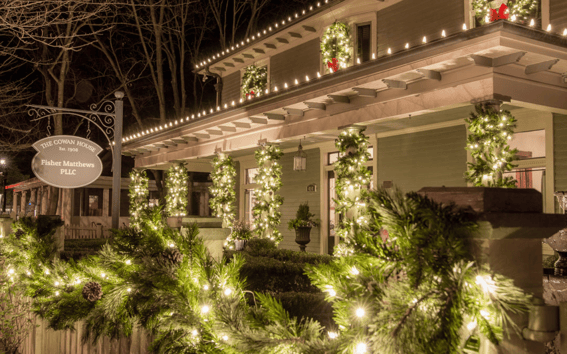 2. Commercial Grade Lights and Installation
Today's LED technology offers highly efficient and long lasting C7 and C9 light bulbs that deliver better effects than the old incandescent bulbs. These low voltage lights are more efficient and reduce the risk of fire or injury as they emit little to no heat. And your professional holiday lighting installer should be able to custom cut your main wiring and string lights to specific lengths to match the dimensions of your building or property. The result is a custom fit lighting system that requires less electricity, delivers superior color, longer bulb life, and consistent performance for years to come.
Why take any chances with your safety or that of your employees? There is no question that installation on rooftops or high ladders exposes you to certain risks. A professional installer will have all the safety equipment necessary; from ladders and Boom Lifts, to proper gage wire, clips, and string lights to safely install your lighting with no damage to the exterior of your facility.
Wiring and other other unsightly materials should be custom cut and hidden to prevent you or the public from seeing them. Asking how your designer plans to "run wire" is another great way to ensure you have selected an experienced professional.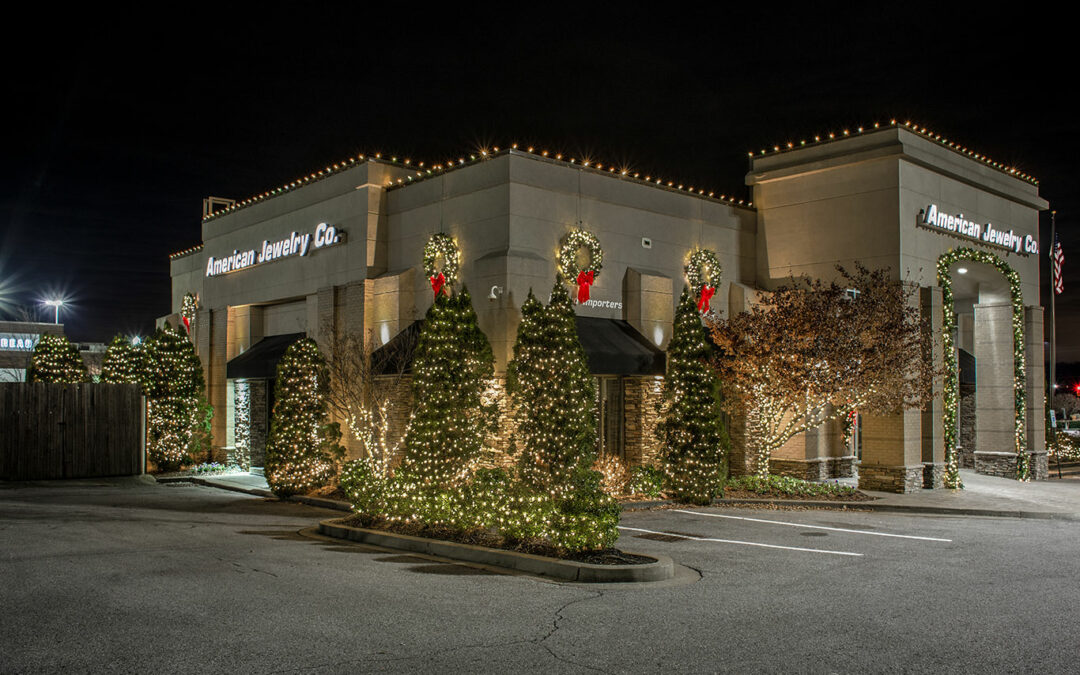 3. Worry-Free Service and Maintenance
Your entire experience beginning with the design consultation to the installation of your display through to removal and storage should provide support to your business, not create disruption or headaches. Superior service will include:
Agreed upon timing for the installation and removal of your lighting that fits your schedule.
System monitoring throughout the season
Accessible customer service center and same day response to answer questions or address onsite issues.
Meticulous removal and packing of displays and temperature controlled storage to provide years of quality lighting.
You should expect to see a team of courteous professionals show up at your location and have your display installation or removal completed in a single day so you can confidently control when your display is operating.
If for any reason the lighting system fails, your installer should have dedicated service personnel readily available to coordinate a service team and correct any issues within 24 hours. Confirm that level of service upfront. It is not too much to ask that your lighting display is always running to perfection.
Be sure your lighting professional uses timers to run your system during predetermined times of the evening. Once installed you should simply enjoy your lights without any further thought or work on your part.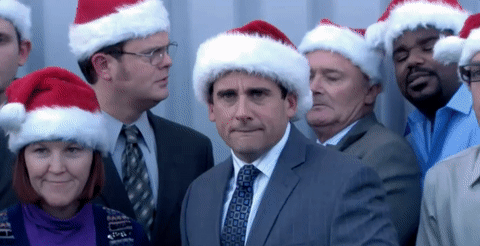 Enjoy Peace of Mind Every Year
At Light Up Nashville, we have been helping businesses and municipalities in the middle Tennessee region enjoy dramatic Christmas lighting for over 10 years. As a locally owned business focused on Holiday Lighting Installation, we take pride in designing and installing lighting displays that will support your brand and the community you serve.
Our team of professionals have been working with us for years to ensure you experience:
Industry Product Knowledge - We keep up with innovation and advances in lighting.
Lighting Design & Installation - Your lighting is meticulously designed, installed, removed and stored as though we are your employee.
Quick & Responsive Service - We are readily accessible to you at any time with questions or assistance to keep your lighting running smoothly throughout the season.
Respectful Professionalism - You will get to know and trust our team over the years in helping make your holiday a more joyous experience.
As the recipient of the Best Holiday Lighting Design Award
from the Association of Outdoor Lighting Professionals for the last 5 consecutive years, we are committed to ensuring you get a fully customized lighting display that will dazzle visitors, inspire your employees, showcase your brand and highlight your support of the local community. We invite you to make this holiday season more festive, relaxed, and joyous so you can focus on what is truly important this time of year.
To schedule your complimentary design consultation please visit: