When the weather turns warmer, it seems everything is better done outside: coaxing plants and flowers into aesthetically pleasing vessels, whiling away a summer day from the seat of a shady lounger, or simply hosting a group of friends for an outdoor dinner. Creating a luxurious outside area that can be enjoyed day or night will help you take full advantage of warm weather and expand the footprint of your living and entertainment spaces.
While you may not know the details on how to light your outdoor kitchen, we do. Light Up Nashville can help so you don't have to become an expert in yet another duty. Consider the following tips as your friendly expert advice to light your outdoor kitchen.
#1 - Hardscape and Accent Lighting
The above outdoor kitchen is located in Brentwood, TN, and includes some neat details. We used accent lighting on the stone columns to show off their unique textured look and added bar lights to the grill area for functionality and design. The hardscape lights in the retaining wall down the pathway guide family and guests in a beautiful, safe way.
Guiding the Way with Hardscape Lights
Safety is paramount in any outdoor space, and your outdoor kitchen is no exception. That's where hardscape lights come into play. Along the retaining wall and down the pathway, hardscape lights serve as guiding beacons, ensuring that family and guests can navigate your outdoor culinary haven in a beautiful and safe way. These lights not only enhance the safety of your outdoor space but also contribute to its overall charm, creating a welcoming atmosphere for all who visit.
Don't think you can light your kitchen properly with all that concrete? Light Up Nashville specializes in recessed concrete lights.
Don't forget: your outdoor kitchen aesthetic probably relies on some greenery details, too. Just take a look at that same picture above and consider how much more welcoming this outdoor kitchen is with the appropriate lighting on the shrubbery surrounding the kitchen.
Enhance Your Kitchen's Landscape with Outdoor LED Lights
Landscaping lights are the secret sauce that can turn your outdoor space into a masterpiece. When integrated with outdoor LED lights, they have the power to work wonders for your landscape. Imagine using them to accentuate the graceful silhouettes of trees, highlight winding pathways that lead to your kitchen, or gently illuminate the borders of your garden. The soft, energy-efficient glow of LED strip lights not only adds a touch of enchantment to your landscape but also embraces sustainability, ensuring that your outdoor space remains eco-friendly and eco-chic.
---
#2 - Strip Lighting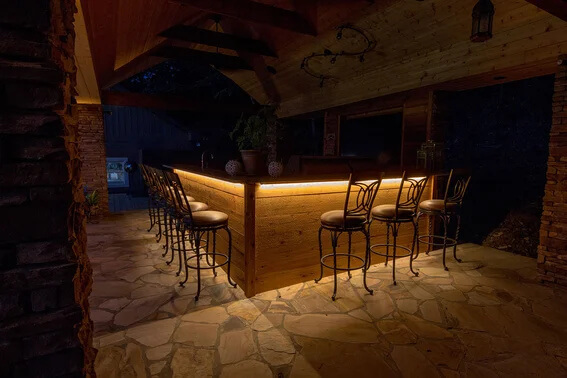 For this client in Goodlettsville, TN, we utilized one of our favorite lighting elements, strip lighting, under the bar for a clean, continuous, and modern feel. The indirect light is unexpected and effortlessly raises the aesthetics of the space. Combined with the integrated hardscape lighting on the deck stairs and pergola, this area is ready for entertainment anytime, day or night.
Strip lighting in this instance (and several outdoor kitchens) isn't meant to see everything clearly but to offer a bit of a buffer as your eyes adjust to the darker environment. You don't want to turn night into day, as it can seem like with outdoor lighting plans. You simply want to enjoy the darkness in your own space with the touches of comfort you love.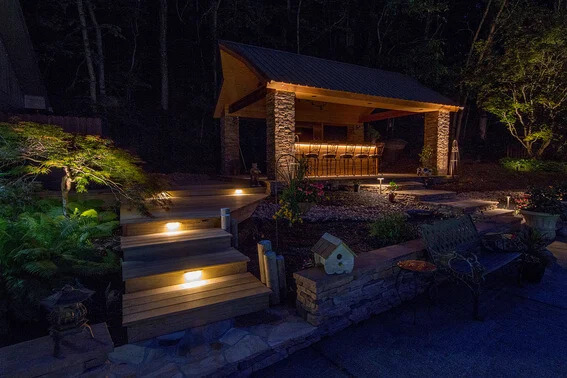 Light Your Outdoor Kitchen with Style
When it comes to creating an outdoor oasis that's both functional and visually appealing, deck lighting, outdoor LED lights, and landscaping lights are essential elements. One versatile and trendy solution that incorporates all these elements is strip lighting. Often referred to as "rope lights," strip lighting has become a go-to choice for homeowners looking to elevate their outdoor experience.
Deck Lighting that Shines Bright
Imagine your deck coming to life as the sun sets. With strategically placed strip lighting, your deck can be transformed into a warm and inviting space. These flexible, plug-n-play lights can be installed along the edges of your deck, providing both safety and aesthetics. They not only guide your steps but also create a captivating ambiance that's perfect for evening gatherings or quiet nights under the stars.
---
#3 - Task Lighting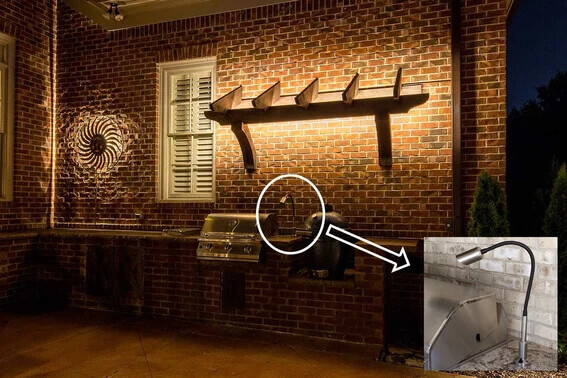 This client in Franklin, TN, incorporated strip lighting to their grill area behind the wooden pergola roof and behind the decorative sun art piece and has a task light installed right next to their grill for easy nighttime cooking.
Grill lighting, a form of task lighting, is another way to expertly add appealing and functional light to outdoor kitchens. Quality grill lights will be solid stainless steel, so they never rust or corrode. They will also include a fully articulating arm to maximize lighting control - allowing you to point it anywhere you need it to shine. They attach right to any grill or countertop and have an adjustable shroud to prevent light glare. The on/off button lets you control where and when you want the lighting on - even if it's incorporated into your existing lighting system. Including task lighting into an already established system will give you the functionality you need without diminishing aesthetics.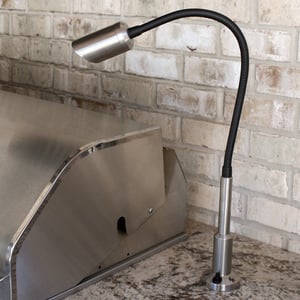 Get Creative with Your Outdoor Kitchen
The power of fixture lighting lies in its functionality and ability to enhance your outdoor living space. Whether you're aiming to improve safety with deck lighting, accentuate your landscape with outdoor LED lights, or add a touch of magic to your outdoor soirées, strip lighting offers a world of possibilities.
---
If you have any questions or would like to discuss your lighting needs, please feel free to request a free consultation online.
We're a local business that has been lighting up Nashville since 2012. Our team has years of experience creating and installing unique and elegant outdoor lighting designs and providing maintenance and repair services to homes and businesses across Middle Tennessee. Our award-winning company has been voted 1st in Nashville House & Home for landscape lighting for four consecutive years and Best of Houzz for the last three years.
Located in Goodlettsville, Light Up Nashville services Nashville, Brentwood, Franklin, Hendersonville, Gallatin, the surrounding areas, and beyond.