Your home and, more importantly, the people in it are the most important things in your life. How to best protect them should take serious consideration. Understandably, home security systems are a common and smart choice. Adding an alarm and exterior cameras, along with monitoring services, do offer protection.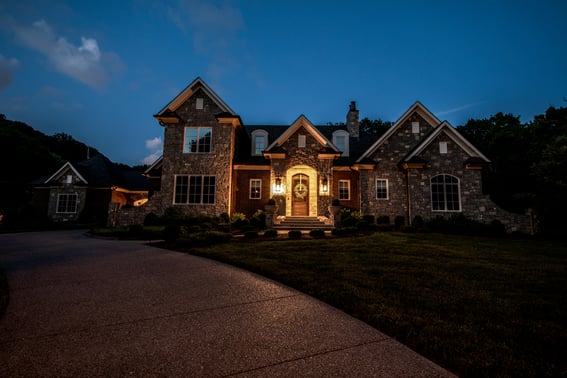 But poorly lit exteriors can limit a security system's effectiveness and put your family at risk. And if you don't want cameras and full monitoring services, outdoor lighting can immediately make your home safer. Here are a few ways to use light to increase security in your home.
1 - Make coming home or leaving at night safer
A dark entrance to your home isn't just unsettling. It's the place where you are most likely to be confronted on your property. Proper lighting around and leading up to entry points of your home makes it easier to see and feel safe. Stepping out the door shouldn't be a concern, either. While a light next to the door may be bright enough to find your keys, good lighting will highlight enough area for you to see your surroundings and safely navigate any stairs or walkways. Studies show that burglars are less likely to try and enter a home with proper lighting as it greatly increases their chances of being detected.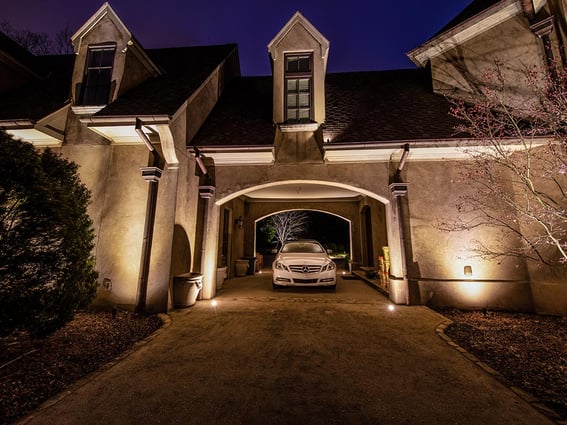 2 - Increase the nighttime visibility of the entire property
If you've ever been in your yard at night, you know the dark spots to avoid. Anyone who has walked their dogs in the evening knows those spots in the yard where it is hard to see them. These dark spots can feel threatening even if they aren't. Proper landscape lighting should ensure the entire property is lit so you can see every corner. And, it can be accomplished without floodlights that detract from the attractiveness and enjoyability of your home. Tree uplighting, pathway lights, and fence lighting can increase visibility on the property while also making your home more beautiful.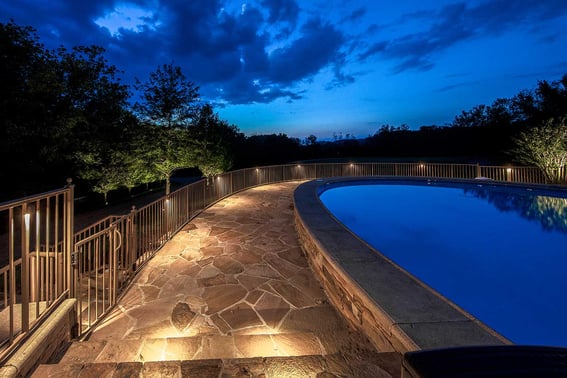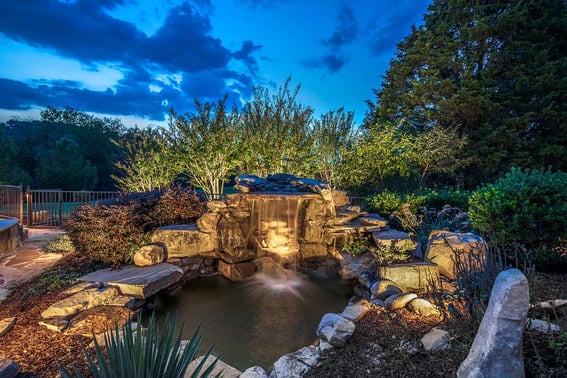 3 - Eliminate blind spots for security cameras
If you install security cameras outside your home, they should be able to see what is happening, day or night. Unfortunately, the wrong lighting can cause issues. Areas that are too dark may be impossible for a standard camera to pick up anything at night. On the other hand, the wrong lighting can blind some cameras making it equally challenging to record activity. A lack of light or choosing the incorrect lighting negates the purpose of the camera when it is supposed to be protecting your property. A professional lighting designer should consider everything, including the placement of security equipment such as cameras.
4 - Detect movement on your property
No, we're not talking about massive flood lights that blind your neighbors every time a squirrel moves. One of the better ways to keep your property safe, especially when you're outside, is to prevent people from even considering stepping foot on your property.. As was mentioned earlier, a burglar is less likely to target a home that is well lit. Perimeter lighting is effective in preventing illegal entry. This lighting can be installed along fencing, or trees that border your yard. When properly installed this lighting will, in fact, add more visual interest and depth to your property that can be enjoyed from your patio. And you will be able to keep an eye on children or pets in the evening extending your outdoor activity and have added another layer of security.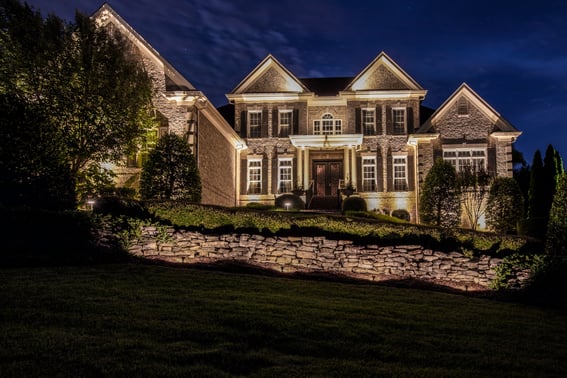 Correctly lighting your home's exterior and landscape should deliver both a sense of security while offering you a relaxing environment to enjoy with family and friends.
Be sure to discuss any security concerns with your lighting designer. They can not only help to secure your property but will design a system that will make living at home even more enjoyable.